S4C chief John Walter Jones 'in post until spring'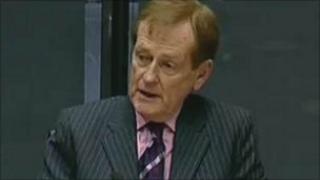 The chair of S4C has told staff at the Welsh-language channel he is still in post at the S4C Authority but will retire at the end of March.
It was John Walter Jones' first public comment since the authority announced last week he had resigned and a vice-chair had been appointed.
Confusion followed when Mr Jones insisted he had not stepped down while the authority maintained he had.
Culture Secretary Jeremy Hunt has told the authority to "clear up" confusion.
Mr Jones told S4C staff the confusion followed after "the contents of a personal letter I received from Jeremy Hunt were misinterpreted, and S4C was hit by a Tsunami."
He said: "I will be 65 at the end of March 2011, and my intention is to retire as chair of S4C at that time.
"The Secretary of State and I discussed this and he understood my decision.
"We did not decide on a date to make this public. I did not want my decision to become the subject of debate, nor in any way influence the process that was on-going regarding the appointment of a CEO."
In his statement, he offered his apologies after "a situation I regarded as one that was purely personal to me and my wife has become the subject of such public debate".
Mr Jones added: "I have made it clear to the Department for Culture, Media and Sport, and I will reiterate this when I next speak to the minister, that I am more than willing to stand aside now if he is of the view that in so doing it would make easier any decision by him regarding the future of S4C."
Mr Jones finished by saying: "My only concern is the future of Welsh language broadcasting.
"In that respect I as an individual am of no importance, but our combined contribution is of immense importance. Believe me, I am very aware of the effect that all of these events are having on you and your dedication to the work of S4C and of the anguish it creates.
"Therefore, apologies, because the personal has, in some quarters had greater attention than far more relevant issues that concern us all."
However, calls for Mr Jones and other members of the S4C Authority to resign have been made by some politicians.
Labour's Alun Davies, AM for Mid and West Wales, told BBC Wales: "I think John Walter Jones - and I would say this in a very private way, if you like - John, it's time to go, please go, because you are becoming a problem for the future of S4C and I would say that to every single member of the authority.
"They are no longer providing leadership - they are creating a problem for the institution."