Shadow health minister Andrew RT Davies resigns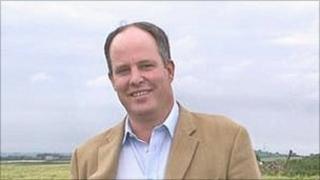 Shadow health minister in the Welsh assembly Andrew RT Davies has resigned from his post with immediate effect.
Mr Davies, Conservative AM for South Wales Central, has had a high profile recently promoting the Tory policy of ring fencing the Welsh health budget.
Assembly party leader Nick Bourne said the resignation was "a surprise".
Mr Davies said it was something he had considered "for some time" and that he looked forward to playing a "full and productive role from the back benches".
His role as shadow health minister will be taken by Monmouth AM Nick Ramsay.
Nick Bourne takes over from Mr Ramsey as shadow finance minister.
A Welsh Labour spokesperson said the Conservatives "have behaved like an out-of-control circus elephant" and were again making headlines for all the wrong reasons.
Effective opposition
"Not only have they lost a key advocate for their bizarre health pledge which would decimate education spending, they have now been forced to shift their finance shadow minister in the midst of the budget debate.
"People in Wales are already angry with a Tory party that is cutting public spending too quickly at Westminster, whilst trying - and failing spectacularly - to make political capital in Wales on the issue of the NHS. They are a busted flush.
A Plaid Cymru spokesperson said: "This news is yet further embarrassment for the Tories in Wales and follows on from their disastrous, and widely ridiculed, response to the Welsh budget, their policy for which would have led to funding for areas such as schools cut by up to a quarter.
"The people of Wales need and deserve an effective opposition, however, the Conservative group is clearly in total disarray and they seem more interested in fighting each other than in providing any proper scrutiny.
Welsh Liberal Democrat health spokesperson, Veronica German AM, said said Conservative health policy was "in disarray".
She said: "Last week, they launched their ill-advised and unaffordable policy of slashing social services, housing and education budgets in order to fund the bloated NHS bureaucracy.
"Now the architect of that policy has resigned. This presents an opportunity for the Conservatives to re-think."