Row over Wales-All Blacks kick-off screening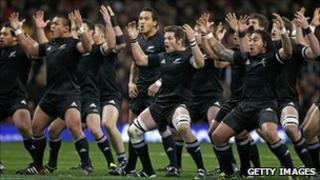 Welsh rugby chiefs say they are disappointed some BBC viewers missed the kick-off of the match against New Zealand in Cardiff on Saturday.
It was only available via the red button after BBC Two continued showing Andy Murray's ATP World Tour Finals semi-final which was over-running.
The Welsh Rugby Union has questioned whether the same decision would have been taken if England were playing.
The BBC apologised to rugby fans but said the tennis was nearing conclusion.
Those tuning into BBC Two at 1715 GMT missed the first seven minutes of the game which saw Wales lose 25-37 to New Zealand.
WRU group chief executive Roger Lewis told BBC Radio Wales it was a "schoolboy error" by schedulers and many people missed out as they were unfamiliar with how to use the red button.
"My concern is this action was symptomatic of an increasing marginalisation of Wales by decision makers in London," he added.
"On this occasion BBC TV bosses in London decided what BBC viewers in Wales could or could not see of a major sporting event taking place in our own country."
Mr Lewis said the kick-off time had been set at the request of the BBC and said given enough notice it could have been moved to accommodate the tennis.
"If someone had put the call in beforehand perhaps we could have pulled this out of the fire," he added.
The kick-off was made available on the BBC's red button service and was also shown live on the Welsh language channel S4C.
The BBC said: "The Andy Murray v Rafael Nadal match went on much longer than expected and had reached a pivotal moment, a tie break in the deciding set.
"As such we felt we had to stay with the match to its conclusion.
"This resulted in viewers missing the first seven minutes of play from the Wales v New Zealand rugby match.
"The match was made available on the red button which was communicated both verbally and visually on screen.
"We went straight to the rugby the moment the tennis had finished.
"We apologise if this caused any inconvenience to rugby fans in Wales and elsewhere."