More warnings as freeze continues in Wales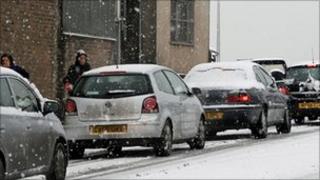 Freezing temperatures overnight have led to more than ten school closures and further warnings of ice on roads.
The forecast is for a dry and cold Monday in Wales with temperatures not expected to rise above 3C (37F).
Temperatures will plunge again into Tuesday with fresh snow expected to move in after midnight.
Wales experienced record-breaking low temperatures at the weekend with Llysdinam in Powys recording -17.3C (0.86F).
This was both the lowest temperature recorded in Wales in November and the lowest in the UK during the month since 1985.
Overnight into Monday, Llysdinam again experienced temperatures well below freezing at -12.9C (8.8F). Even lower temperatures were recorded in Scotland.
Drivers in Wales are being warned to take care, particularly on untreated roads.
Mid and West Wales Fire and Rescue Service attended a road collision on the A458 near Llanfair Caereinion in Powys involving two cars and a lorry. Nobody was seriously injured.
Several schools were closed across Wales in counties including Caerphilly, Powys, Rhondda Cynon Taf, Flintshire and Neath Port Talbot.
Rhondda Cynon Taf cancelled all recycling and refuse collections due to the weather.
The council is concerned about the condition of some side streets and pavements, and says forecasters predict the temperature is unlikely to change.
Higher winds
The council - Wales' second biggest - said it wanted to ensure the safety of staff.
First Cymru said some of its bus services in Carmarthenshire would not run on Monday because of icy road conditions.
The company said service 124 would not operate up to Mountain Road; service 129 would not operate along Is-y-Llan; and service 165 would not operate through Mynyddcerrig.
Also in Carmarthenshire, Llandeilo community education centre was closed due to frozen pipes and thick ice in the car park.
BBC Wales weather presenter Behnaz Akhgar said snow was expected to move into Wales from the east after midnight on Tuesday but, at this stage, it was not expected to be heavy.
She said higher winds were also expected on Tuesday which would make it feel even colder.
BBC Wales has the latest online travel news and weather updates.