Welsh land management plan Glastir 'shambolic'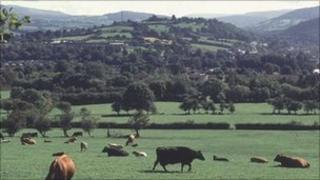 A new land management scheme has been branded a "disaster" by a Farmers Union of Wales (FUW) official.
As farmers gather for the Winter Fair in Powys, about 16% have registered to join Glastir, only a fifth of the number who indicated initial interest.
Glastir is the much-vaunted scheme set to replace the agri-environment Tir Gofal and Tir Mynydd in two years.
Rural Affairs Minster Elin Jones has set up an independent panel to review its lack of appeal to most farmers.
Gwynedd Watkins, of the Caernarfon branch of the FUW, said: "We think it's a disastrous situation and has been totally shambolic from start to finish.
He said that was despite lobbying by the farming unions to gain improvements.
"With less than 3,000 applicants... it's totally unacceptable and we've got to try to get it improved."
Almost 3,000 farmers in Wales have registered to join the Glastir - Welsh for "green land" - which is well down on the number who indicated their initial interest in the scheme.
It is to start in January 2012, and will replace four other schemes by the end of 2013.
The low registering numbers concerns the assembly government, and Ms Jones has set up an independent panel to review its lack of appeal to the majority of farmers.
Ms Jones said a number had told her 3,000 was not high enough, and there were problems in implementation.
She said: "The environmental outcomes that we want Glastir to achieve cannot be achieved unless farmers come into the scheme.
"I need to make it more attractive, more practically possible for farmers."
Rhun Edwards. from Tanrallt farm in Talybont near Conwy with 450 ewes on 600 acres of difficult and severely disadvantaged farming land, has to be won over.
He rents his land just within Snowdonia's National Park and he also keeps 25 Welsh mountain ponies. He feels farming should concentrate on food production and less on protecting the environment.
Mr Edwards said: "I think there is far too much emphasis on the environment in this.
"It's meant to replace the Tir Mynydd scheme, which was meant to assist hill farms in the winter... it would help you when you had to send stock away to graze and there's nothing from that side."
But there are others who see opportunities, such as James East from Heol Draw Farm in Tretower near Crickhowell, Powys.
His family runs a butcher shop in Brecon, and he runs a sideline fattening pigs, lambs and cattle from his 60-acre holding.
"The main attraction to Glastir would be some of the areas in it, such as the riverside corridors, hedging, a number of aspects like that which I would have to put into place in the next couple of years anyhow to fulfill what I want to do," said Mr East.
"But I feel if you are putting into the land you need to put a little back."
While the National Farmers Union (NFU) has said Glastir is unworkable and impractical, the Country Land and Business Association (CLA) in Wales welcomes the review.
CLA Wales policy director Sue Evans said it was logical to monitor progress of the scheme, and stressed that interest in Glastir had to be set in the context of the relatively small number of farmers participating in agri-environmental schemes in Wales.
About 15,000 farmers receive payments under Tir Gofal and Tir Mynydd schemes currently, and these schemes, including Tir Cynnal and organic farming, will be phased out by the end 2013.
Ms Evans added: "CLA Wales has always supported the principle of Glastir and it is only sensible that the scheme should be reviewed and altered where necessary. Farmers are flexible and will work with the Welsh Assembly Government to get it right."
"We won't see the whole picture until 2013 at the earliest. However, if access to Glastir can be made simpler - more menu-driven and less hurdle-strewn - farmers will find it much less daunting."