Temperature drops to record -17C November low in Powys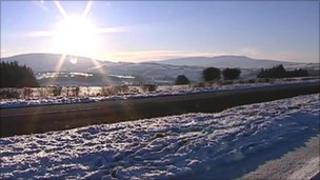 Mid Wales recorded the lowest temperatures in the UK on Saturday night as bitter cold continued to bite.
Llysdinam in Powys saw -17.3C (0.86F), which is both the lowest ever recorded in Wales in November, and the lowest in the UK during the month since 1985.
Another Powys weather station at Tirabad, south of Llanwrtyrd Wells, saw a new local record of -14.3C (6F).
That made Wales colder than Greenland, with the chill continuing next week, and more snow possible from Tuesday.
Rhondda Cynon Taf council has cancelled recycling and refuse collections on Monday because of the weather.
The council said staff had "worked around the clock" since Friday's snow to keep the roads clear, but it took the decision because the icy conditions are forecast to remain, and the state of some side streets and pavements.
The council - which is Wales' second biggest - said it wanted to ensure the safety of staff. Residents have been asked not to place waste outside on Monday, but keep it for next week.
Michael Dukes of MeteoGroup, the weather division of the Press Association, said: "You are seeing some ridiculously low temperatures - it has been a bit like it is in the middle of Scandinavia.
"There should be a bit more of a breeze over the next day or two, which will not feel quite as extreme.
'Extraordinary cold snap'
"But then we might see temperatures threaten -20C (-4F) in the Scottish glens later.
"This is certainly an extraordinary cold snap."
The all-time lowest recorded daily minimum temperature in Wales was also in Powys, on 21 January, 1940, when Rhayader saw -23.3C (-9.94F).
BBC Wales weather forecaster Behnaz Akhgar said many places remained below freezing on Sunday, with a top temperature at most of 2C (36F).
Sunday night was again be cold and frosty, but dry, with temperatures down to -8C (18F), and Monday is similar.
It is expected to get even colder as next week goes on, with snow showers or longer spells of snow likely from Tuesday night into Thursday.
BBC Wales has the latest online travel news and weather updates.
The enhanced content on this page requires Javascript and Flash Player 9
Map Key
Land
Cloud
Lakes, Rivers & Sea
Fog
Light
Heavy
Frost
Light
Heavy
Pressure Fronts
Cold
Warm
Occluded
Rain
Light
Heavy
Extreme
Snow
Light
Heavy
Temperature tab only
Temperature (°C)
More details from BBC Weather
The unusual weather is being caused by high pressure over Greenland and low pressure in the Baltics, forcing cold winds from the north-east across Europe.
The lowest ever recorded temperature in the UK was -27.2C (-17F) in Altnaharra, in the Highlands, in 1995.
England's lowest was -26.1C (-15F) in Newport, Shropshire, in 1982, and in Northern Ireland it was -17.5C (1F) in Magherally, Co Down, in 1979.