Assembly referendum daft, says ex-minister Kim Howells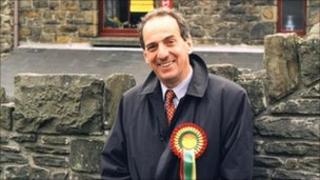 Former Labour minister Kim Howells says next year's referendum on extra powers for the Welsh assembly is "partial and daft".
The former Pontypridd MP said he felt a Yes vote would just result in the assembly asking for more and more powers.
His comments come in a BBC documentary to be shown on Sunday night, Kim Howells - A Valleys View of the World.
In the programme, he also questions the impact of devolution for Wales.
While he was a Westminster education minister, he sat on the cabinet committee responsible for drawing up the proposals for the 1997 referendum which set up the assembly.
He voted in favour of it then but now says he feels "ambiguous and confused".
"I think come the referendum in March, I'll be probably voting against granting the assembly greater powers of primary legislation because I think it's partial and it's daft," he said.
He added: "I'm not sure about the motives really, I don't think you can out-nationalist the nationalists - it doesn't matter what gestures you make towards devolution, they will always press for more.
"The second bit that worries me is that it's an addition to the big state and everywhere I go in Wales has an assembly building - a great huge shining edifice.
'So much government'
"I'm not sure what they all do in there, and why we need so much government?"
Last weekend, Welsh Labour launched its Yes campaign for the referendum on further law-making powers.
Welsh Labour leader and First Minister Carwyn Jones said although the party would be involved in the cross-party effort to secure a Yes , it was important for members to fight a parallel campaign appealing directly to his party's core vote.
Dr Howells has never been known as enthusiast for devolution and said in 1995 that he did not become a MP to take part in the "Balkanisation of Britain".
In the documentary, he also questions the impact of devolution.
"I'm not sure it's seen a great improvement in the condition of the people of Wales," he argued.
"But it's early days and we'll see if it does make such a huge improvement.
"But my wife says to me, 'Listen, if you felt that strongly about it, why didn't you vote against it when you were in the privacy of the voting booth - so just stop talking about it!'."
The Electoral Commission is expected early next year to designate official Yes and No campaigns for the referendum, which will be on 3 March.
Kim Howells - A Valleys View of the World is broadcast at 2225 GMT on Sunday, 28 November.