Machen couple's company scoops third ice cream award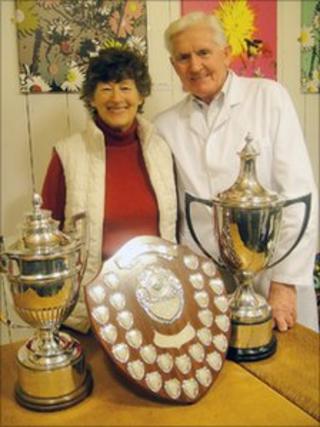 Fresh from their win at this year's National Ice Cream Competition, the couple behind Minoli's of Machen are now standing aside for the next generation.
Lewis and Sue Richards have been at the helm of the south Wales valleys company for more than two decades.
In that time they have beaten off stiff competition to scoop the Champions of Champions trophy for their vanilla ice cream a record breaking three times.
Standing over a fresh batch of his secret recipe, Mr Richards said their recent win could be put down to one factor: "the quality of the ingredients".
"We use organic milk and cream for the base," he said.
"We also spent a long time looking for a flavour that blended with our mix.
"It's a strong mix as it has a high fat content because we use so much cream, so we make an ice cream with only a suggestion of flavour."
Although the couple already had two wins under their belts, Mrs Richards said the third this year was the cherry on top of the sundae.
'Out of the blue'
"We were so proud," she said. "It came out of the blue. You hope to win, but to win a third time was wonderful."
But Mr Richards said was time to pass on their secrets. "We've been thinking about it for a while, but it all hinged on who would take over from us," he said.
"We've been trying to coax our children into taking on the business for some years because it was important to us to hand it over to someone who knew the brand and would look after it."
With a twinkle in her eye, their daughter Sian Powell said they made the decision to take over the reins after "Dad put his foot down".
Along with her husband, Richard, they are now in the process of expanding the business and re-branding it.
"We've decided to change the name of company to Hapus Ice Cream to reflect its Welsh heritage for the past 23 years," said Mr Powell.
Up until now this award-winning ice cream has only been available to punters at the Royal Welsh Show, but Sian and Richard are taking it to the next step by opening an ice cream parlour.
They have now finished converting a number of old stables on the farm owned by Mr and Mrs Richards in Machen and are ready to start handing out the ice cream cones on the weekends leading up to Christmas.
For Mrs Richards that retirement may be short lived.
"Mum makes fantastic cakes, so we're going to have her baking in the kitchen," Sian said.
With the parlour situated just a hop, skip and jump away from the factory where the ice cream is made and Sue's kitchen, there's unlikely to ever be a problem with supplies.