Pair jailed for Cardiff fatal quad bike burglary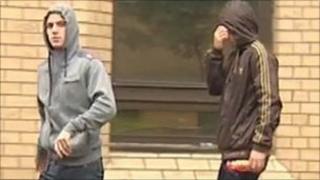 Two burglars have been jailed for three years at Cardiff Crown Court for a raid which left two of their gang dead after being hit by a train.
Liam Xuereb, 22, and Anthony Thomas, 23, and two friends stole £7,500 of ski jackets from a store in Cardiff last December.
They used two quad bikes to escape along a railway line but Trevor Davies, 20, and David Cooper, 24, were killed.
Xuereb and Thomas had admitted burglary.
Prosecutor Julian Greenwood told the court how the four men, on quad bikes, were caught on CCTV cutting a hole in the back fence of the Go Outdoors store's compound.
"Once inside they grabbed rails full of jackets and clothing and loaded them onto the bikes," he said.
"They were escaping along a railway track when there was a collision with a train."
The court heard the train was an unscheduled locomotive travelling at 68 mph on the London Paddington to Swansea line.
Mr Greenwood said: "The driver Graham Sparshott remembers a flash of white light and a massive jolt as the train lifted itself off rhe tracks.
"He stopped and radioed for help. The police arrived and found Davies' and Cooper's bodies in undergrowth next to the line."
An inquest jury returned verdicts of accidental death on Davies and Cooper earlier this year.
The court heard the four friends from Llanrumney, Cardiff, planned to make "easy money" by selling the stolen jackets in the run up to Christmas 2009.
The train driver is still on stress-related sick leave nearly a year after the incident on the main Cardiff to London rail track.
Xuereb and Thomas pleaded guilty to burglary and endangering the safety of rail passengers at an earlier hearing.
Judge Patrick Curran QC told them: "The two young men killed were your close friends.
"The dangerousness of your conduct was demonstrated by the loss of their lives."