Tough time to create affordable homes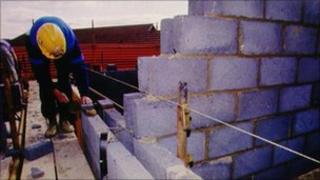 For Nebil Hassan, who turns 45 next month, it is an early birthday and Christmas present rolled into one.
After three years on the waiting list, he finally moves into his new home on Wednesday and Nebil says it will be life changing for his growing family.
"I have been living with my wife and three children in a three-floor one-bedroom apartment in Canton [Cardiff]," he said.
"We are now on such a high because it's been very frustrating and we have had to be patient."
The Hassans have benefited from one of the 6,700 affordable homes delivered by the Welsh Assembly Government.
That target had been hit four months early but, with a 23% cut to the housing capital budget over the next three years, the Deputy Minister for Housing Jocelyn Davies says that tough times are ahead.
"We have actually managed to exceed our target for the four years and have got, to date, 6,707 additional affordable homes," she said.
"With such a cut to the housing capital budget, I think it will be impossible for us to set such an ambitious target [in future]."
Welsh Liberal Democrat housing spokesman Peter Black has accused the Welsh Assembly Government of massaging the figures.
"Once again the Labour-Plaid government is misleading people as to their targets," he said.
"The deputy minister is seeking to hide the real figures from the Welsh public.
"The fact that 2,188 homes have been removed from the supply of affordable housing means that the increase is much less than is claimed.
"With the One Wales deadline only five months away, the Welsh Assembly Government would need a miracle to reach their target."
Nebil Hassan will live in one of 17 newly built affordable units which are owned by Taff Housing on the site of the old Ninian Park football stadium.
But housing associations do not have enough homes to meet the growing need.
In the Canton area of Cardiff alone, there are 1,200 households on the waiting list.
'Very challenging'
Last year only four families found new homes.
Taff Housing Association chief executive Elaine Ballard admits that less money makes solving the problem very difficult.
"What we have been trying to do is develop without grant funding which is very challenging," she said.
"We have built 135 homes over the last three years with £7m in grants but that doesn't go anywhere near the cost of building the homes."
While some can only hope to get their hands on new keys, Nebil is already looking ahead to making full use of his new home.
"I can finally start cooking properly, my daughter can have her own bedroom and it will be nice to live on planet earth after three years in a third-floor apartment," he said.