Councils boost grit stockpile ahead of freeze in Wales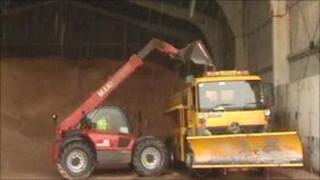 Councils across Wales insist they have learned lessons from last winter's snow when road salt supplies ran low.
With snow forecast for some parts of Wales, most councils say they have enough grit to treat roads for 12 days continuously.
The Welsh Local Government Association (WLGA) says it is also trying to source 10,000 tonnes of rock salt from Sweden.
But the AA warned that councils were cautious about gritting now because the cold weather had arrived so early.
Paul Watters, the AA head of roads policy, said: "Even though they are improving their stocks, they are nervous about putting it down - this cold snap has come right at the start."
Snow last January and February made it the worst winter weather in 30 years and led some councils to cut their gritting programme as supplies ran low.
This year they are recommended to store enough rock salt to grit for 12 days continuously, double last year's minimum.
Mr Watters said: "This is redressing the balance back to normal winters - everyone agreed that we were caught out over the last two.
"I think everyone is very nervous about it this year. The irony is that if it does turn mild, then any nervousness might be washed away."
Most of the councils contacted by BBC Wales said they had upgraded their winter maintenance plan following a review.
Blaenau Gwent, Caerphilly, Cardiff, Carmarthenshire, Ceredigion, Conwy, Denbighshire, Flintshire, Rhondda Cynon Taf, Powys and Pembrokeshire said they were starting the winter with at least double last year's minimum recommended store.
Wrexham has almost doubled its rock salt stockpile to 7,000 tonnes and said it had enough to last for 70 days or 35 days if the weather turns severe.
Anglesey and Denbighshire are using rock salt coated with molasses as way to extend the life of rocksalt put on their roads.
Denbighshire would need 900 tonnes to carry out 12 days' continuous gritting. It has 7,500 tonnes with a further 1,500 on order and is using the molasses mixture on five of its 12 routes.
Salt barn
Torfaen council was one of the hardest hit last winter. It was down to its last 110 tonnes of rock salt by the end of February, with its two salt barns almost emptied.
It has has 4,000 tonnes of salt in stock, with 2,000 more on order. A 12-day salting run would use 2,520 tonnes of salt.
It has also bought three new weather stations to improve its weather forecasting capabilities for decisions on when and where saltings should be made.
Councils in the south Wales and Gwent valleys say they also have access to a 10,000 tonne capacity salt barn at Ebbw Vale.
Monmouthshire has a stock of 7,500 tonnes with access to 2,000 more from the Ebbw Vale salt barn. It needs 9,000 tonnes for 12 days' gritting.
Swansea said it would have supplies for 12-and-half days' gritting by mid-December for use on 44% of its roads, with another 500 tonnes immediately available from its suppliers.
Bridgend has raised salt stocks by 25% and said it could undertake very heavy salting for at least 20 days.
Stockpile
Newport said its stockpile, enough for 8.8 days' gritting in a snow white out, would be boosted by another 1,500 tonnes by Christmas.
Neath Port Talbot and Anglesey councils did not supply any figures.
The WLGA said: "All the necessary steps have been taken to put local authorities in a much better position going into the winter and all councils are stocked up to a higher level in salt compared to last year.
"Councils have learned the lessons from last year and are geared up for wintry weather conditions."
BBC Wales meteorologist Derek Brockway said Wales was facing bitterly cold weather, starting at the weekend and going well into next week.
He said: "There will be penetrating frosts across the country accompanied by wintry showers, snow in places, with a risk of ice on untreated roads.
"It's going to be very cold over the weekend, with a wind chill.
"It looks like staying bitterly cold next week, with a risk of more significant snow and strong to gale force winds possible."