'Bloated' S4C 'must think small' says leading producer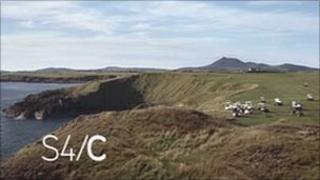 S4C is a "bloated" organisation which could be run much more efficiently, an independent producer has told MPs.
Ron Jones of Tinopolis was giving evidence to the Welsh Affairs Select Committee on the channel's future.
Mr Jones said S4C had thought of itself as a "big and important organisation" and should think more like a "small organisation once again".
Geraint Talfan Davies, former BBC Wales controller, and broadcast expert Ian Hargreaves also gave evidence.
Last month UK Culture Minister Jeremy Hunt revealed that the BBC is to take over part-funding for the Welsh-language channel from 2013.
But Mr Talfan Davies told the select committee that the structure set out in the letter from the secretary of state to the BBC "is not a workable structure", adding that it "sounded cumbersome and expensive".
Professor Hargreaves, author of a recent independent review of the Welsh Assembly Government's activities in the field of the creative industries, also said there were "shortcomings to the deal" and called for a serious and urgent review.
All three criticised the decision to advertise for a chief executive now, stating that the appointment should wait until the deal with the BBC has been finalised.
Although they all agreed that S4C should not be exempt from any cuts, Prof Hargreaves told the committee that the cut to S4C's budget was at the "heavy end of cuts".
He stressed: "You can't cut that amount without affecting volume or quality".
Discussing the problems that S4C have faced, Mr Jones said that both its authority and management had to share the blame for the crisis at the channel.
But Mr Talfan Davies said that S4C suffered as a result of a "conspiracy of silence", adding that there was a fear of taking responsibility for the channel, especially in government circles in the Welsh assembly.
The select committee's evidence session was the first of four such sessions on the subject of S4C which it is believed will roll into next year.