Councils 'must fill empty private homes' says charity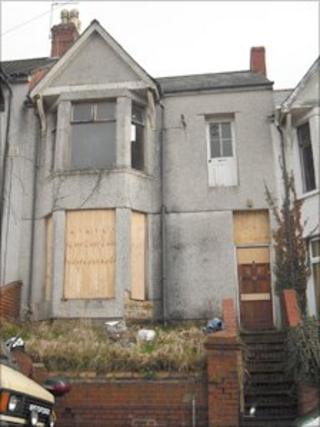 Councils should use their powers to bring empty privately-owned homes back into use for people with housing needs, says a charity.
Shelter Cymru said more than 26,000 such properties in Wales have been empty for six months or more.
It said there are 91,000 households waiting for council and social housing.
The charity's director John Pusey said: "Local authorities have a range of powers in which they can bring back into use empty homes."
To coincide with National Empty Homes week, Shelter Cymru called on people to report empty homes in their area.
It said studies show that the average cost of returning empty homes to a habitable state is between £6,000 and £12,000 per property.
Around 2,000 empty homes could be brought back into use for £20m, it said.
Empty homes were a blight on communities, said the charity, often attracting fly-tipping and vandalism, which can tie up local resources and deter investment in an area.
Mr Pusey told BBC Radio Wales: "With a very significant shortage of affordable homes in Wales we need to do a lot more to bring as many of those as possible back into use for people in housing need."
He said many homes were empty because people could not afford to refurbish them or were not sure about how to rent them.
"So there needs to be a range of ways in which we bring those back into use, where possible working with owners," Mr Pusey added.
"And where owners are not willing to take part in that partnership, to use some of the powers that local authorities have to bring them back into use."
Mr Pusey said local authorities could take over the management of homes for a period of time, charge the owner and rent to people in need.
"They can even go as far, of course, as compulsory purchasing properties where necessary," he added.
"The real answer is... how they can work with owners where possible, help them bring those homes back into use and hopefully rent to people who desperately need those homes and who are on the waiting list."
Strategy
Meanwhile Newport council has said it will target more empty homes after selling off a house that had been unoccupied for 14 years.
Attempts to find the owners of the house in St John's Road, Beechwood, had been unsuccessful, the council said.
The property, partly converted into two flats, was the first to go under the hammer under a strategy to reopen unoccupied homes. It sold for £87,000.
A five-year plan is targeting an estimated 120 empty homes.
The strategy allows the council to bring a property back into use and to claw back the costs from the owner or when the property is let.
The council can take over the management of a property for seven years, in order to bring it back into occupation.
A council spokeswoman said: "The council is ready to take stronger action to deal with long-term empty domestic properties which can blight the lives of those living nearby."