Peerage for former Plaid Cymru leader Dafydd Wigley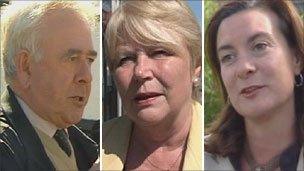 Former Plaid Cymru leader Dafydd Wigley has been granted a peerage by the Queen.
Mr Wigley, former Caernarfon MP and an honorary president of the party, said he would use his seat in the Lords to "speak up for the people of Wales".
Joining him is Jenny Randerson, who is stepping down as Lib Dem AM for Cardiff Central at the next assembly election.
Former Labour MEP Eluned Morgan has also been created a life peer.
They are among 53 new peers, who include former BBC and ITV chairman Michael Grade, Oscar-winning writer Julian Fellowes and broadcaster Joan Bakewell.
Mr Wigley, 67, served as an MP between 1974 and 2001 and was an assembly member in its first term from 1999.
He will join Plaid peer Lord Elis-Thomas in the Lords, where he will sit as a cross-bencher.
He can't sit as a Plaid member because the rules of the Lords mean a party needs four or five members to be recognised as a group.
Mr Wigley said: "I only hope that this appointment now paves the way for Plaid Cymru to secure a team of at least three members, which is not unreasonable in a chamber which will consist of almost 800 members.
"I will also continue to press the case for reform of the second chamber and look forward to the day when its members are democratically elected."
Plaid Cymru said that Mr Wigley's appointment was good news for the people of Wales and pledged to continue its campaign for a fully elected House of Lords.
Plaid Cymru's leader Ieuan Wyn Jones AM said he was "delighted" at the appointment.
He said: "He will be a tremendous asset not only for Plaid Cymru but for the whole of Wales."
Plaid's Westminster leader Elfyn Llwyd MP added: "This announcement is very welcome indeed.
"I'm looking forward to his joining our Westminster team and being assisted by his huge experience and expertise."
Jenny Randerson AM has been an AM since the origin of the assembly in May 1999.
She is a former culture minister and acting deputy first minister.
Mrs Randerson said she was "honoured" to have been granted a peerage though she was committed to reform that would see peers abolished.
She said: "There is a lot of work to do in the House of Lords.
"Although my role there has not yet been determined I wish to continue my role of ensuring that Wales benefits from a strong, developing and resilient economy and that we have an efficient transport system that can aid in our economic development.
"The irony of my peerage is that I will, of course, be fully committed to abolishing my position as a peer when reform proposals are brought forward.
"It has been an absolute honour to be a part of Welsh devolution over the last decade and I look forward to continue standing up for the people of Wales in the House of Lords."
Ms Randerson added that until she stands down as Cardiff Central AM next May, her "number one duty" would be to continue to serve her constituency.
Cardiff-born Eluned Morgan, 43, served for 15 years in the European parliament, before stepping down last year.
She is an honorary visiting professor at Cardiff University.