Cardiff MP Kevin Brennan named social media winner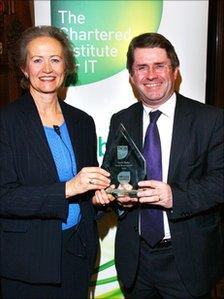 The Cardiff West MP Kevin Brennan has been named the winner of this year's Social Media MP award - ahead of the Deputy Prime Minister, Nick Clegg.
The award, from the BCS, the Chartered Institute for IT, recognises politicians who have embraced internet technology to engage with voters.
Every MP is automatically judged for the award - with a short-list whittled down to four MPs.
Mr Brennan was named the winner at a ceremony in the House of Commons.
As well as communicating via the likes of Facebook and Twitter, Mr Brennan posts videos on YouTube.
"I'm delighted to win this award and especially when you consider all 650 MPs were automatically entered for the competition," said Mr Brennan.
"The use of social media is a great way to communicate with constituents and share with the public the work you carry out as an MP.
"From Twitter to YouTube there are some fantastic social media tools available which can help you reach out to a wider audience and people who might not necessarily be interested in politics."
The awards are now in their third year, with the web award presented by fellow Cardiff MP, Alun Michael.
Mr Brennan found himself on the shortlist for the prize alongside the Liberal Democrat leader, Nick Clegg, and the MPs Jeremy Corbyn and James Gray.
David Clarke, BCS chief executive, added: "I'd like to extend my congratulations to Kevin and all the winners this year.
"Once again, our MP Web Awards have produced an interesting snapshot of the best use of web technology by MPs today."
"People want to be involved and will use these kinds of tools so MPs who take advantage of web technologies have a real opportunity to create a personal conversation with their constituents."
Related Internet Links
The BBC is not responsible for the content of external sites.