Carwyn Jones challenges Tories over 'protecting' NHS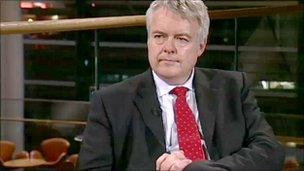 First Minister Carwyn Jones has challenged Welsh Tories to spell out what they would cut to meet their pledge to protect Wales' health budget.
Welsh Conservative leader Nick Bourne is warning frontline NHS services will be hit under the assembly government's draft budget cut of 7.6% in real terms.
Mr Bourne said he would be prepared to see a 20% reduction in education spending to ringfence the NHS budget.
Welsh Lib Dems said ministers needed to address a £1bn "misspend" in the NHS.
Assembly government ministers say they have done their best to protect health within the draft budget announced on Wednesday.
It will take a cut of 7.6% after inflation over three years.
Education and local government face reductions of between 7% and 8%, over the same time.
Hardest-hit were economy and transport and the environment and housing departments. Their funding is cut by a fifth over three years.
Welsh Conservatives responded by expressing surprise that the draft budget by the Labour-Plaid Cymru coalition at Cardiff Bay did not ringfence the health budget.
Mr Bourne told BBC Wales Today of the 7.6% cuts on the health budget: "We would protect that, and we're looking at different ways of doing that.
"One way, which I'm surprised they haven't taken, is to freeze higher salaries in the public sector. I think that's an obvious thing to do.
Mr Bourne accepted that ring-fencing the health budget would mean cuts of "about 20%" in other budgets such as education.
Andrew RT Davies, the Conservatives' shadow health minister told BBC Radio Wales the party would outline its policy on different areas of government in a succession of month policy statements leading up to the assembly elections in April next year.
He would not be drawn on what cuts other departments would face to meet the party's pledge to ringfence NHS spending in Wales, saying the party would announce a shadow budget in 6-8 months.
Mr Davies told the Good Morning Wales programme: "Yes the figure might be 20% as the leader has identified, but it's not just 20%, it's the way you use the money.
"And that's one thing we, in all our public services in Wales have identified - we've been prepared to put money in but not measure the outcome.
First Minister Carwyn Jones said the Tories faced finding £1.3bn from Wales' budget to meet their pledge.
He told Radio Wales: "It's important that where people criticise, they actually have facts at their fingertips that back up what they're saying.
"All we've heard this morning is that 'We will tell people in due course where we would make those cuts'.
"It's not good enough. The budget's taking place now.
"If you are going to be an effective opposition you've got to say now where the those cuts would be made and be honest with the people of Wales and we've done."
Welsh Lib Dems finance spokesperson Peter Black, AM for South Wales West Wales, said the assembly government had "tried to protect health services" but ministers had not "done anything to address the £1bn that is being misspent".
He told BBC Radio Wales: "There has been some attempt at ringfencing by keeping it flatlining - no change in cash terms - but in a sense this is a side issue.
"The issue is how we spend that money and what the outcome are from spending that money.
"Wales still has worse outcomes than England and we still have the situation where finance professionals in the health service say that one fifth of that budget is being misspent.
"And unless the assembly government addresses that issue, then this attempt to keep health at roughly the same level is actually going to be for nothing.
Related Internet Links
The BBC is not responsible for the content of external sites.