Universities watchdog accused of 'serious error'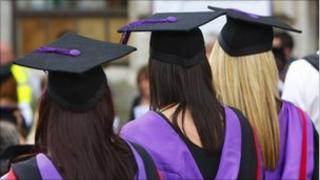 The education minister has accused a watchdog of a "serious error" over its inspection of a Malaysian college which offered University of Wales courses.
Leighton Andrews said the Quality Assurance Agency (QAA) failed to check college staff had valid qualifications.
BBC Wales' Week In Week Out programme showed the director of Fazley International College (FICO) held a bogus qualification.
The QAA said it was holding "urgent talks" with the university this week.
The minister has also written to the body responsible for funding Welsh universities to ask them to conduct a wide ranging investigation into the University of Wales' activities.
Safeguard standards
Mr Andrews told the Higher Education Funding Council he wants it to examine the "efficacy and transparency of the current franchising and quality system of the university".
The QAA's role is to safeguard quality and standards in UK Higher Education, including British qualifications delivered by overseas colleges.
The minister said the evidence presented in Week In Week Out indicated "a serious systemic failure in both the validation processes and quality control has occurred."
He has asked to know whether a key change in the QAA's advice to universities about their overseas partners was as a result of the BBC Wales investigation.
Mr Andrews has also asked for a full update on what contact the QAA has had with the University of Wales since the programme was transmitted.
Week In Week Out revealed that Fazley Yaakob, who ran FICO in the Malaysian capital Kuala Lumpur, was claiming to have both a masters and a doctorate in business administration.
He stepped down following the programme's broadcast.
Anthony McClaran, chief executive of the QAA, said that as the director of FICO was not directly involved in the teaching of any courses, the nature of his qualifications would not have been a matter for the QAA.
'Urgent talks'
He said that his organisation's reviews concentrated on the management of academic standards and the quality of learning opportunities.
But he added that the the QAA's updated code of practice contained "clear advice" on the care with which universities needed to choose partners.
This update, in October 2009, advises institutions to look at the ownership and governance of partner institutions.
Mr McClaran added: "I have received Leighton Andrews' letter and of course share his view that the allegations against the University of Wales should be fully and swiftly investigated.
"I will be sending the minister a detailed response as soon as possible. In the meantime, I can confirm that QAA will be holding urgent talks this week with the Vice-Chancellor of the University of Wales.
"We need to establish accurately and formally the University's account of the facts in relation to these allegations.
"We will then be in a position to decide on our next course of action and we will be reflecting carefully on our systems and procedures following these events".