Cuts threaten future of Wales' outdoor pursuit centres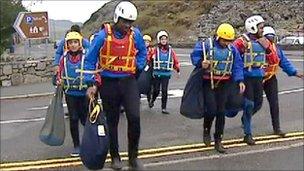 Organisers say outdoor education centres in Wales are under threat as local authorities in England face budget cuts.
There are currently around 40 centres in Wales, mostly run and funded by councils across the border.
The association representing the centres warns many could be forced to close if councils do not continue to support them financially.
They claim hundreds of rural jobs will be put at risk.
Snowdonia in north Wales, has a higher concentration of outdoor education centres than any other part of the UK.
According to Alistair Cooke, chair of the Association of Heads of Outdoor Centres, the venues were opened in the 1960s to give inner-city children an opportunity to experience the great outdoors.
He told BBC Wales: "The problem is that these services aren't statutory and school budgets are under huge pressure.
"We fear local authorities will not be able to continue supporting their children financially to come away to these outdoor centres.
"It's the most disadvantaged children that will be hit the hardest and once these unique facilities are gone, they will not be easily replaced."
He added that around 450 people are employed in the 22 centres in north Wales alone.
"These are not seasonal jobs, they are proper jobs, people employed by local authorities and all the training that comes with those posts."
Jamie Holding is deputy principal at Ogwen Cottage in the Ogwen Valley, an adventure facility run by Birmingham City Council.
"We've got 13 people here plus their associated families and all the trade and the suppliers that we use that are totally reliant on the ongoing success of this centre," he said.
"If we were to go it would leave a big hole for all those people and the potential to develop the thousands of young people who come here from places like Birmingham."
Birmingham City Council would not confirm if funding for the centre is to be frozen.
"Final decisions on savings following the spending review will be finalised in the new year and until then we can't comment on any specific areas," a statement read.
Although many centres are managed by English councils for their own pupils there are concerns about the implications for local people.
Gwen Griffith has worked in the kitchen at Ogwen Cottage for 15 years.
She said: "We're all very concerned. We don't know where else we will find other jobs."
Tracy Evans works for the Outdoor Partnership in north Wales, an organisation which strives to ensure there are more adventure opportunities for local people.
She said: "We work very closely with these centres with a view to giving local people more opportunities and we are concerned about the effects if these centres were to close."
Related Internet Links
The BBC is not responsible for the content of external sites.