Members of Welsh assembly agree pay freeze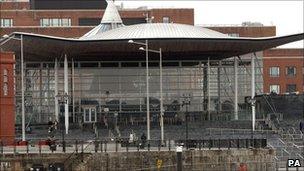 Members of the Welsh assembly have agreed a pay freeze for four years after the assembly election next May.
It was already known AMs would face a two-year freeze in line with all public servants earning over £21,000 per year.
The assembly's remuneration board welcomed the decision, saying it would save the equivalent of £1m over the next four years allowing for inflation.
AMs have an annual salary of £53,852, while First Minister Carwyn Jones earns an additional £80,871.
Remuneration board chairman George Reid said: "I welcome this determination by AMs to play their part in addressing the challenges of the current economic situation, which is seeing widespread pay freezes in both the public and private sector."
The board said AMs from all four parties - Labour, Conservative, Plaid Cymru and the Liberal Democrats - had agreed to the freeze.
Peter Black, Welsh Lib Dem whip, said: "If public sector workers across Wales have to undergo a pay freeze, it's only fair that assembly members have our pay frozen too.
"We should not be treated differently to the thousands of public workers in Wales."
Nick Bourne, leader of the Conservatives in the assembly, agreed AMs had to "show solidarity".
"At a time when public money is under considerable pressure, I am pleased that AMs of all parties have agreed to come together to agree a freeze in AMs' pay," he said.
"This shows solidarity with the people of Wales who are having to tighten their belts to make ends meet."
Helen Mary Jones, deputy leader of the Plaid group, said: "Plaid Cymru AMs unanimously agreed that our pay should be frozen.
"We wrote to the remuneration panel following our meeting with them to ask that this happen as soon as possible.
"At a time when many public sector workers across Wales are having to undergo pay freezes, the Plaid Cymru group felt it was only right that we face the same conditions."
The new remuneration board, which held its first meeting with AMs last month, is the independent statutory body responsible for determining the salaries and allowances of AMs and their staff.
It had previously said that AMs' salaries should "reflect the reality of what Welsh men and women receive in their pay packets".
Related Internet Links
The BBC is not responsible for the content of external sites.