Bishop's prayer call for animal war casualties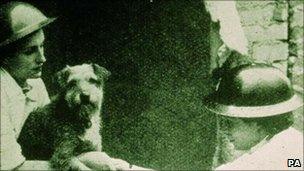 The Bishop of Monmouth is urging churches to use Remembrance Day services to pray for animal casualties of war.
Thousands will gather on Sunday to remember soldiers who made the ultimate sacrifice for their country.
The Rt Revd Dominic Walker says animals have a long history of dying in conflict.
It comes as the Blue Cross charity called for the contribution of animals to be marked on Armistice Day.
British wartime history cites many examples of animals dying in the service of the country.
In the two world wars alone, the Blue Cross treated more than 300,000 animals, including horses and dogs, which assisted the troops in a variety of ways.
Eight million horses died in combat during World War I.
But Bishop Walker, who is also a vice-president of the RSPCA, also urged congregations to remember the dolphins used to search for mines in the Gulf conflict and the monkeys and pigs used to test biological and chemical weapons.
He said: "Animals have been used to carry troops and equipment, to pull gun carriages and supplies, and, along with the men they have served, millions have died of wounds, starvation, thirst, exhaustion, disease, and exposure.
"It is a sad fact of animal welfare that whenever human beings and animals come into contact, so often it is to the detriment of the animals, and yet there is a common bond between humans and animals.
"Nevertheless, animals rarely get a mention in prayers in our churches, even on Harvest Festival, let along Remembrance Sunday.
"This Remembrance Sunday, it would be good to think that some churches might remember the millions of animals that suffered and died in military action or as a result of warfare, and to pray for the animals that are still suffering today."
Bishop Walker also urged Christians to apply the principle of seeking to protect animal welfare in their everyday lives- from what they eat to how they shop.
He added: "We need to be concerned about animals that are abused by being bred and treated as meat and milk production machines and unable to live natural lives.
"God has given us dominion, but not domination, over other sentient beings. I believe that Christians should have an ethical diet and, wherever possible, buy food that is locally produced, fairly traded, and animal welfare-friendly."
On Friday, staff at the Blue Cross base in Victoria in London will mark the work carried out by their predecessors who tended animals made homeless in the Blitz 70 years ago.
They will attend a private remembrance service, organised by Voices for Horses, at the Animals in War Memorial in Park Lane in London.
In 1940 the staff cared for more than 150,000 dogs and cats, many of which were rescued from buildings that had been bombed.
The charity is also taking part in the official Remembrance Sunday parade.
Related Internet Links
The BBC is not responsible for the content of external sites.