'Pretend' drunks catch out Conwy and Denbighshire pubs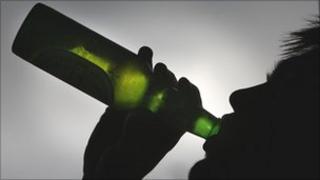 Trading standards officers used "pretend" drunks to catch out pubs in an undercover operation.
Of 49 pubs visited in Conwy and Denbighshire, only seven refused to serve the pretend drunkards.
The volunteers pretended to be so inebriated they fell into tables, carried bottles out of bars and slurred their words.
One was dressed to resemble Frank Gallagher, the often-drunk character in Channel Four drama Shameless.
Serving alcohol to intoxicated people on a licensed premises is a criminal offence.
Roly Schwarz, community safety enforcement manager for both authority areas, said they used three professional witnesses to act out the drunken display as all the tradings standards officers are so well known in the area.
'Falling over'
He said: "On one of the occasions we actually dressed one of them as Frank Gallagher, the very dishevelled main character in the series Shameless and had him trying to buy a drink in character with change and smelling of drink and he was still served.
"We also had them knocking over furniture, falling over, telling staff they had been drinking all day and walking in and out of places.
"We were very surprised by the findings as we went along and decided to up the ante, with them acting more and more drunk and always making sure they told anyone who listened they had been drinking all day."
Mr Schwarz said during the operation they also found three men snorting cocaine in the toilets of one pub and another where a barman was smoking cannabis by the door.
He said the idea has also been trialled by the Metropolitan Police in London but so far few other authorities have used the method.
Area of risk
The pubs caught out in the operation, which took place over nine nights in October, have all been asked to attend training sessions on the laws surrounding serving alcohol.
"It identified an area of risk because so many people are involved in crime when they have to much too drink- either as victims or offenders," said Mr Schwarz.
Intelligence gathered during the first six nights was used to inform the last three nights where officers observed real drunk people being served.
Of the 25 pubs targeted on those nights, 11 sold alcohol to real drunks.