South Wales Police criticised for Cardiff armed arrest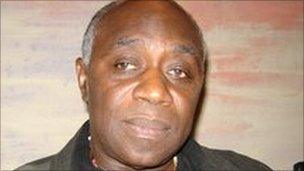 A watchdog has criticised South Wales Police after the arrest of an innocent man at gunpoint at his Cardiff home.
The Independent Police Complaints Commission (IPCC) has upheld 13 of 40 complaints made by Victor Frederick, aged 63, and his partner, Andrea Heath.
It followed a police operation in Riverside, Cardiff, in 2009 when Mr Frederick was arrested at his home.
Mr Frederick said he was "concerned" about the report's findings and failings.
South Wales Police, who later made an unreserved apology to the musician, said they accepted the report's findings.
The IPCC report accepted that the decision to arrest Mr Frederick had been "justified and proportionate" on the basis of the intelligence information police had received.
But it said an earlier explanation and apology for the police action may have helped alleviate the distress and anger felt by Mr Frederick and his family.
"We also found some worrying issues about the management of the police operation and the IPCC has made some recommendations [to South Wales Police] for learning from this," said IPCC Commissioner for Wales, Tom Davies.
The actions of an officer who handcuffed Mr Frederick were also criticised, especially as that person had refused to come forward.
Mr Fredrick was arrested in February 2009 as he returned home from his music studio in nearby Grangetown.
It followed an intelligence operation that wrongly suggested he owned potential bomb-making equipment.
As well as being confronted by armed police outside his house, the home was searched by officers while Mr Frederick's 12-year-old daughter and his partner looked on. He was held for 21 hours before being released without charge.
The couples' legal representative, Beth Handley of Hickman and Rose Solicitors said: "The report does not disclose any evidence, other than the opinions of the same police officers who have been criticised in the report, that allows my clients to be confident that the decisions taken by the police leading up to the very distressing circumstances they suffered were properly and rationally made.
"The investigation of this incident suggests a very poorly planned and executed operation which took place prematurely and should have been avoided."
Publishing its report into the complaints made by Mr Frederick, and Ms Heath, aged 49, the IPCC said it was upholding some of the issues raised.
Other complaints upheld included returning his car from a forensic search with damaged gears, and not returning a mobile phone for a week after his arrest.
The report also agreed that the force had failed to undertake sufficient research before the raid was carried out on a home where a child was present.
The IPCC also found that Mr Frederick's partner had received a "lack of apology" from the police in a timely manner, including from the former assistant chief constable David Morris.
Detailing the findings, IPCC commissioner for Wales Tom Davies said: "When Mr Frederick was arrested by armed officers and was held at gunpoint along with his partner and child this must have been a terrifying ordeal for them.
"He had not committed any crime and had no idea why he had been stopped and why his family were also being threatened by the presence of armed officers.
'Justified and proportionate'
"An early explanation and apology after the event by the police would have gone a long way to helping him understand what it was the police were doing.
Commenting on the issue of handcuffing Mr Frederick, the IPCC commissioner added: "It is unacceptable that we were unable to identify the officer who applied the handcuffs. It appears to me the officer responsible does not have the integrity to come forward."
Mr Davies added: "The public accept that the police have to deal with very difficult situations and are given powers to protect us from terrorists. It is unfortunate that sometimes innocent people are arrested or subject to investigation."
Responding to the report, assistant chief constable Nick Croft said: "We accept the findings of the IPCC report.
"We have worked closely with the IPCC on this matter and recognise that, on this occasion, we didn't get things right."
He said that chief constable Peter Vaughan had written to Mr Frederick to formally apologise and ask to meet to extend his own personal apology.
"We are committed to ensuring that we will continue to review our processes in light of the IPCC report, and will make such changes which are necessary," added Mr Croft.
Related Internet Links
The BBC is not responsible for the content of external sites.