AM Mick Bates 'has no memory' of incidents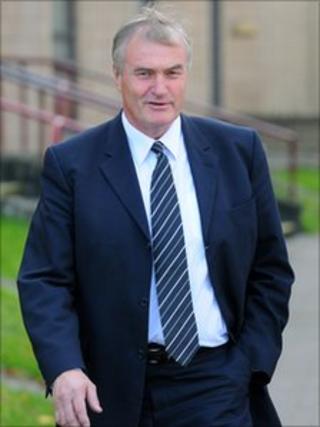 An assembly member who denies assaulting paramedics has told a court he has no recollection of the alleged incidents.
Montgomeryshire AM Mick Bates has started giving evidence at his trial at Cardiff Magistrates Court.
He denies three counts of common assault and public order breaches.
He said he had no memory of an alleged incident outside a city centre restaurant or another after he was taken to the Heath Hospital.
The court had previously heard how police and paramedics were called to Charleston's Steakhouse in January.
They found Mr Bates slumped on the steps, smelling strongly of alcohol and with a bleeding head.
It was claimed he punched one paramedic in the chest and grabbed another violently by the wrist.
Later after being taken to hospital it was claimed he threatened hospital staff with a pair of scissors.
Magistrates have heard that a hospital blood test carried out on Mr Bates showed that he had in excess of three times the legal drink driving limit of alcohol in his blood.
The case continues.