2,100 left without GP after Pentyrch surgery closes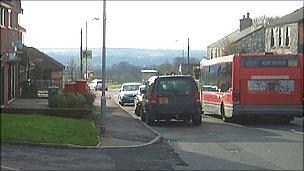 Around 2,100 patients have been left without a doctor in their village after the sudden closure of their GP surgery near Cardiff.
Over 150 attended a public meeting in Pentyrch to discuss the issue.
Dr Canute Benedict, who was due to retire next year, told BBC Wales he had been in a dispute with health officials after losing the right to carry on dispensing medicine from the practice.
The local health board is expected to comment later.
Patients, given only a few days warning of the changes, have been advised to register with a practice in Radyr in the interim but this could involve an hour's journey on two buses for some.
The Cardiff and Vale Local Health Board (LHB), local councillor Craig Williams and the Cardiff Community Health Council (CHC) called the public meeting at Pentyrch Rugby Club on Monday.
Dr Benedict said although he could still prescribe, he was not allowed to dispense medication any longer - an important part of the viability of the practice.
He claimed his surgery had been compromised by a pharmacy being allowed to open nearby and had been struggling to sell the surgery, ahead of his retirement, without it having the right to dispense.
Dr Benedict said he was "disheartened" about leaving and that his patients had been "extremely devoted" to him and they had expressed concern to him about him leaving so abruptly.
Dr Benedict said he was keeping the surgery building open for the time being with his staff working, but patients had been told to go to Radyr.
"I built the surgery from scratch 30 years ago and the dispensary, included in the surgery, has been the single reason for the success of the practice."
He said the loss of income and the cost of overheads made it no longer viable in a small village.
Cllr Craig Williams, local member with Cardiff Council, said the public meeting was very well attended.
"The LHB said they were there to listen and they have ruled nothing out.
"I'm extremely relieved they are going to try and work with Dr Benedict for a GP surgery here in some form."
Mr Williams said the CHC and LHB had said they would try to come up with proposals in the next four or five weeks.
Steve Allen, from Cardiff and Vale Community Health Council, represents patients in the area.
"Pentyrch, in common with many rural areas, faces a particular set of challenges, separate to many people in more urban areas of Cardiff," he said.
"One option which we need to make people aware of, is the transport services provided by several voluntary groups."
Mr Allen added that it was possible that no GP would return to Pentyrch, given the price of property in the area, and the fact that only around 1,000 of Dr Benedict's patients fall within the boundary of the Pentyrch catchment area.
That figure is generally considered unsustainable for a viable GP's practice.
The LHB said it would comment on the situation after they had the opportunity to talk directly to patients at Monday's meeting.
Related Internet Links
The BBC is not responsible for the content of external sites.