Welsh minister says Wales wants 'big society'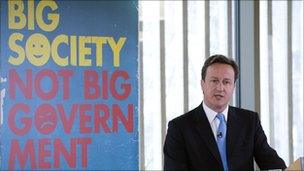 There is "huge enthusiasm" in Wales for the "big society" agenda, says a UK government minister in Wales.
Wales Office minister David Jones is meeting the assembly government's Social Justice Minister Carl Sargeant to discuss how it can be taken forward.
David Cameron launched his flagship plan to empower communities and foster a culture of volunteering in June.
Mr Sargeant said he was sceptical about transferring services from the public sector to the voluntary sector.
Speaking in Westminster on Wednesday, Mr Jones said: "I find huge enthusiasm among stakeholders in Wales for the government's "big society" agenda, which does seek to devolve influence down to the lowest possible level.
"For that purpose, I will be having a meeting with the minister for social justice and local government to discuss ways in that the Welsh Assembly Government can participate in the process."
Social Justice Minister Carl Sargeant said he accepted there were opportunities for the voluntary sector to work differently.
But he added: "What I'm not going to do is go down the road of encouraging the voluntary sector to take the place of the public sector.
"I expect the public sector and the voluntary sector to work very closely together in the way they deliver services - they're doing that now, and I think what we have to do is to encourage that and give them the catalyst to do that."
The comments come as the assembly minister is launching a £13.5m fund on Thursday to help make community groups, third sector organisations and social enterprises less dependent on grants and more able to bid for contracts.
The Community Economic Development Programme will operate across Merthyr Tydfil, Torfaen, Caerphilly, Blaenau Gwent, Rhondda Cynon Taf and Bridgend will be among those receiving help.
The scheme is expected to create 119 jobs as new organisations are established and others are expanded.