Huge acclaim for 'grounded' Gareth Bale
By Kevin Leonard
BBC Wales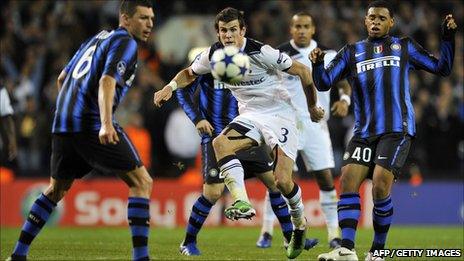 Tottenham manager Harry Redknapp offered an enlightening story about Gareth Bale in the aftermath of the Welshman putting the European champions to the sword.
He revealed he had recently granted the 21-year-old a four-day break and advised him to take a holiday abroad.
"He did. He went to Cardiff to his mum's. That's him all over," said the Spurs boss.
A word that often crops up to describe the Cardiff-born sensation by those who have known him throughout his career is "grounded".
Former coaches and family all say the former Whitchurch High School pupil is unlikely to have his head turned by the plaudits following his stunning performance in Tottenham's 3-1 win over Internazionale in the Champions League on Tuesday.
Bale woke up to headlines such as "Bale Force" (Telegraph), "Balissimo" (Mirror) and "Bale bundles up Inter" (Guardian).
BBC Radio 5 live's Alan Green echoed previous English laments concerning a similarly talented left-sided player - Ryan Giggs - when he said: "What would [England manager] Capello give to have Gareth Bale?"
Newspaper columnists were falling over themselves with superlatives for the former Southampton left back, now reinvented as a left-sided attacking destroyer, who had tormented one of the best full backs in the world - Inter's Brazil international Maicon.
"Taxi for Maicon", the Spurs fans chanted.
There was even praise from Inter director Luis Figo, the former Portugal midfielder, who approached Redknapp after the match to tell him Bale was "just amazing, amazing".
Italian newspapers were quick to identify why the European champions had been beaten. Gazzetta dello Sport's headline said: "English lesson: Inter fall to Tottenham. Bale goes wild."
This was all just a fortnight after Bale had signalled his intent on the European stage with a hat-trick against Inter at the San Siro, almost single-handedly dragging Spurs back into the game after falling 4-0 behind.
But if one young player appears equipped to deal with the limelight, it is the level-headed Bale.
Chris Pike, a former Cardiff City player who is Bale's uncle, said his nephew would take the attention "in his stride".
"His parents are very salt of the earth and have brought him up really well and have done everything for him in the sense of giving him time and love," said Pike.
"I'm sure he will not change. It's the cliché that they all do change but I'm sure Gareth won't."
Pike said he had spoken to Bale following his devastating performance a fortnight ago in Italy.
"I spoke to him on the Wednesday and congratulated him on his performance at the San Siro and he was just going out with a couple of friends, very low key," he said.
"He's just a smashing lad."
The Wales footballer of the year was raised in Cardiff and attended Eglwys Newydd primary school in the Whitchurch area of the city before going to Whitchurch High School.
His PE and games teacher Gwyn Morris recognised from an early age that Bale not only had talent, but also had a fantastic attitude.
"He's a fantastic personality. His mum and dad are very, very supportive," he said.
"I think he's got the full package - he's got the ability and the right attitude.
"I just hope there's not too much pressure on him and he's allowed to develop as himself.
"He's still very humble and that's a very strong part of his personality."
Not surprisingly, Bale still keeps in touch with his old school and recently donated a couple of his football shirts.
His potential was spotted by Southampton and Bale made his debut in the Championship in the 2005/06 season at the age of 16.
He made a total of 45 appearances for the Saints before Spurs signed him in May 2007 for a transfer fee that could rise to £10m.
Incredibly, there have been doubts about his progress at various stages of his career.
Even relatively recently at Tottenham, Bale played a record 24 Premier League games without being in a winning Spurs side.
Huw Jennings, academy director at Fulham FC who oversaw Bale's development at Southampton, said: "It's interesting with the development of most young players, the line graph is pretty wavy, and it was interesting in Gareth's case.
"He actually went through quite a lot of difficulties as far as his growth and development was concerned as a young teenager.
"For a couple of years indeed, I think most of us at Southampton doubted whether he would come through that and emerge as the very strong talent he has become, but it's absolutely terrific to see his development."
Jennings said the player had always been talented but had now developed further strengths.
"He's always had some fantastic attributes - his touch and control have always been excellent and his delivery of the football has always been terrific with a great left foot," he said.
"He's now developed the strength and pace to go alongside his natural talent."
The world is at Bale's feet and, despite predictions by publicist Max Clifford that he could make as much as £20m in endorsements and image rights over the next five years, his uncle said money did not interest him.
Pike said: "I've known him for 21 years and I know exactly how grounded he is.
"He just loves playing football - he's not motivated by money, he's not motivated by fame, he's just motivated by football and he loves it."
Related Internet Links
The BBC is not responsible for the content of external sites.