Welsh Parliamentary Party revived by plan to cut MPs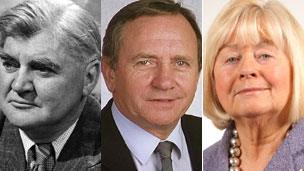 A Welsh parliamentary body which was once chaired by Aneurin Bevan is holding its first meeting this century.
The Welsh Parliamentary Party (WPP), made up of all 40 MPs from Wales, is meeting on Wednesday to discuss plans to cut the number of Welsh MPs.
The meeting has been convened by Cynon Valley MP Ann Clwyd as the longest-serving member from Wales.
The WPP last met in 1996 but dates back to the late 19th Century, when the Marquess of Salisbury led the country.
Many opposition MPs are angry that plans to cut the number of Welsh MPs by a quarter have not been discussed specifically in the House of Commons.
The UK government says there is plenty of time to discuss Welsh issues during the passage of the legislation to enact the reduction in the number of MPs.
Welsh Secretary Cheryl Gillan also annoyed some opposition MPs by refusing requests to hold a meeting of the Welsh Grand Committee on the subject.
Ms Clwyd said: "It is only right that these dramatic reform proposals and their implications for Wales should be debated and scrutinised in a Welsh Grand Committee.
"In the absence of the opportunity to do so, we will meet as the Welsh Parliamentary Party for the first time since 1996.
"I hope members from all parties will attend and I hope we can come to an agreed resolution which can be put to the secretary of state."
The WPP was founded in 1888 but rarely meets.
An early first chairman was Alfred Thomas, Liberal MP for East Glamorganshire, who pushed for a Welsh parliament.
Former chairs of the committee include the chief architect of the National Health Service, Aneurin Bevan.
'Distinguished contributions'
The committee was rebuked in 1941 by Prime Minister Winston Churchill for wanting to meet to discuss a petition on equality for the Welsh language, at the height of World War II.
It was last convened in February 1996 when it was chaired by Allan Rogers, who retired as Labour MP for Rhondda in 2001.
Unlike the Welsh Grand Committee, the WPP does not need the Welsh Secretary's approval before meeting.
Newport West MP Paul Flynn has called it a "unique parliamentary institution".
Writing in his blog, Mr Flynn said: "Over 122 years the WPP has spasmodically made distinguished contributions to Welsh life. It initiated many policies that have shaped the politics of Wales in the present century."