Debt, doorstep lenders and how one man broke the cycle
By Naphtalia Loderick
BBC News Wales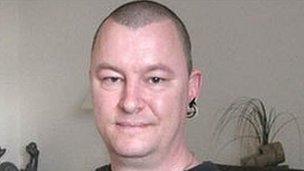 "If you're on benefits or on a low income you haven't got that access to credit as you would be if you had a job."
Stephen, 40, unemployed, is an example of someone forced to turn from banks and building socities to high interest doorstep lenders - or even loansharks - for help.
Not-for-profit company Moneyline Cymru, was set up to tackle this problem and is marking its first anniversary by joining with a community housing charity to publicise their "Don't Get Bitten" campaign.
The organisation, funded by housing associations and the Department of Work and Pensions (DWP) offers loans and financial advice to people who cannot get mainstream credit from banks and building societies.
It claims to have already helped tenants save debt interest of more than £1.6m from its five offices in south Wales.
Stephen, from Newport, who is unemployed and has mental health issues, started running into trouble with a doorstep lender after he fell behind on repayments and the high interest started to rack up.
"I got in contact with my doorstep lender as a lot of people in my area have accounts with her. She came around, agreed to the loan and she paid me in cash on the table," he said.
"Things were fine for a while but she had an accident. They were supposed to send a representative to collect the instalments but she didn't arrive for five weeks.
"You have your money on the table and when it's not collected it evaporates. You're charged interest on those missed payments - I was being charged around 280% on £35 for five weeks - and it suddenly starts becoming a problem.
He was referred to Moneyline by his housing officer.
"We did a budget and I saved myself £400 in interest which is a lot of money if you're on a fixed income," said Stephen. "The money I borrowed paid off my doorstep loans.
"I'm used to living on my budget now so I intend to use Moneyline to save once my loan has been paid off. I'd recommend anyone in my predicament to contact them because they are so helpful."
Community Housing Cymru, the umbrella group of 18 housing associations behind the not-for-profit Moneyline Cymru, estimates that 70% of those living in council or housing association properties are unable to access mainstream credit.
Their research showed that as a result, these "financially excluded" were using high interest doorstep lenders, tempted by the low weekly repayments and ignorning the high interest rates of around 252% APR.
In extreme cases, financially excluded tenants were turning to loan sharks for funds.
Nigel Draper, chair of Moneyline Cymru said they helped poor people "break the cycle" of expensive borrowing.
Moneyline Cymru operates in Newport, Cardiff, Cwmbran, Pontypridd and Bridgend.
Nick Bennett, chief executive of Community Housing Cymru, said, it had proved such a success they were looking at extending the scheme across the whole of Wales.
"With the recent budget cuts announced by the Chancellor, the housing sector is doing all it can to alleviate financial pressures on tenants.
"It is for this reason we are keen to roll out this initiative across Wales at a time of great hardship for many people in our communities."
Moneyline Cymru is funded by 18 housing associations across south Wales and the DWP.
But it helps private tenants as well as social housing tenants, providing loans at rates slightly higher than mainstream banks from 20% upwards.
In the period of a year, Moneyline Cymru has issued 2,540 loans and opened 1,156 savings accounts with a total savings of almost £33,000.
It also works with the Welsh Illegal Money Lending Unit to tackle loan sharks.
Related Internet Links
The BBC is not responsible for the content of external sites.