Wales 'should set its time zone,' says Lord Archer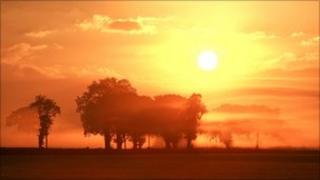 Wales should be able to set its own time zone and not have to change clocks in summer and winter, according to peer and author Jeffrey Archer.
Lord Archer told BBC Radio Wales' Sunday Supplement that devolution meant UK countries did not have to be all on the same time zone.
He failed to pass a bill giving Wales, England and Scotland the right to set their own time zones in 1999.
"Why should the rest of Britain fall in line just to suit the Scots?" he said.
On the day that the clocks went back an hour to mark the end of British Summer Time [BST], Lord Archer said Scotland could have a different time zone and then the rest of the UK could leave the clocks at the same time.
Lord Archer said: "If you've got your own parliament, do your own thing.
'Very little cost'
"This would be a popular thing at very little cost".
The Conservative peer and best-selling writer of novels such as Kane and Abel favours the idea of BST all year round. In the late 1960s, an experiment to keep the UK on BST throughout the year, was abandoned after three years.
Now the clocks have fallen back an hour to Greenwich Mean Time [GMT], Wales will have darker winter evenings in return for lighter early mornings.
A group of campaigners, Lighter Later, have proposed another solution to the problem. They propose shifting the clocks forward by one hour throughout the entire year.
Clocks would still be put forward in spring and back in autumn, but an hour of daylight would have moved from the morning to the evening, resulting in lighter evenings.
Farmer Michael George, from Brynhyfryd, near Haverfordwest, told BBC Radio Wales' Eye on Wales, he liked Lighter Later's idea.
He said: "The lighter evenings would help us in the harvest and silage-making seasons when we would be able to utilise all the daylight hours and work on more in the evenings instead of losing daylight hours when maybe some farmers would be in bed."
But Roger Lewis, who farms at Poyerston near Milton, to the east of Pembroke, said he preferred to have more light in the morning.
'Depths of winter'
He said: "To envisage, in the depths of winter, it just coming light at 9 o'clock in the morning doesn't appeal to me.
"Yes, we get an extra hour of daylight in the afternoon but really that wouldn't be of any advantage to me as a dairy farmer."
Terry Jones, acting director of communications at the National Farmers' Union of England and Wales, said a narrow majority of farmers were in favour of lighter evenings the last time members' opinion was tested on the issue.
"Whether an extra hour's daylight would be more beneficial in the morning or the evening depends very much on the work pattern on each individual farm," he said.
"If a firm proposal was made to put the clocks forward - in order to reduce road accidents, for example, or reduce energy consumption - we would need to consult our members - but at this stage we are keeping an open mind."