Independent budget review needed says Welsh Tory leader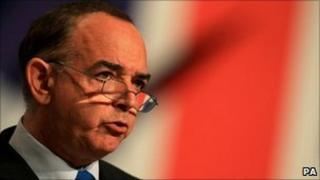 An independent budget review process is needed in Wales, says Nick Bourne, leader of the Welsh Conservatives.
Mr Bourne told his party's policy forum in Llandudno that Wales should follow the model in Scotland.
Wales needed "independent budget projections and recommendations", and important discussions were "being carried out behind closed doors".
A Labour Party spokesman said Mr Bourne's call was a "rehashed idea".
Mr Bourne told BBC Radio Wales: "Labour's knee jerk reaction has always been to say no, yet the first minister recently called for opposition parties to work together constructively on the Welsh budget.
"That is exactly what this kind of review would give us the chance to do. As in Scotland, we have the opportunity to gain independent projections and recommendations that can be properly debated."
The assembly member said Wales' budget needed input from experts, stakeholders, opposition parties and the general public.
"Scrutiny and debate are essential to an open and transparent assembly government. This simply isn't happening at the moment and the culture of secrecy has got to stop."
A Labour Party spokesperson said: "The assembly government is already talking to people across Wales about their priorities for the forthcoming budget.
'Draft budget'
"We will not be setting up an Independent Budget Review, as the consultation and transparency the Tories are calling for, already takes place. That's why the document we will publish on the 17 November, is called a Draft Budget."
He said Nick Bourne was simply issuing a "re-hashed idea..." which "...demonstrates they either don't understand how the Welsh Budget process works, or they choose not to".
A Plaid spokesperson said: "It is extremely rich for the Tories to be coming out with this sort rhetoric when between them, and the previous Labour government, they have saddled Wales with huge financial problems.
"If the Conservatives really care about the Welsh budget they wouldn't be hitting it with such savage cuts."
Peter Black, Welsh Liberal Democrat shadow finance minister, said his party wanted a review of government expenditure, but stopped short of calling for an independent review.
He said: "As families and businesses tighten their belts, the Welsh government needs to do the same.
"The Welsh Liberal Democrats have consistently called for a review of government expenditure to root out waste and inefficiency.
"The Labour-Plaid government has refused even to investigate reports that £1 billion is being misspent within the NHS."
In a speech which sets out Conservative policies ahead of the assembly elections next year, Mr Bourne said there should be an end to free prescriptions for all and that his party would protect health spending.
He told the party forum: "By asking those who can afford to pay for their prescriptions we will save around £30m, money we would invest in frontline services such as hospice care and stroke services.
"Under our plans, those on above average incomes will pay a small amount for their prescriptions but those that can't - such as children, pensioners, students, and those on benefits - will continue to get them for free."
He said Welsh Conservatives would also:
instigate a programme of loft and cavity wall insulation for homes across Wales
give the Welsh language official status
create the office of language commissioner to promote the use of Welsh