£483,000 grant helps theatre 'laboratory' in Wales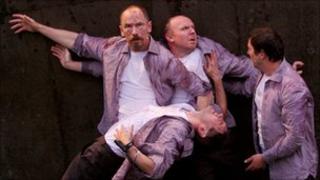 A five-year project to help up-and-coming theatre companies and artists is being launched by National Theatre Wales.
WalesLab will help hundreds of artists develop their ideas, sharing their work online and at "summer camps".
A £483,000 grant from the independent Esmée Fairburn Foundation is providing funding.
National Theatre Wales artistic director John McGrath said the grant was "a huge vote of confidence".
The company has been bringing theatre to a range of Welsh locations during its first year, including performing an ancient Greek drama in a military training area in the Brecon Beacons.
Next Easter Michael Sheen, from Port Talbot, will star in and direct a passion play, which will be written by Welsh poet Owen Sheers.
Wales Lab is named in tribute to the company Cardiff Lab, which brought a range of new theatre ideas to Wales and the UK in the 1980s.
It will allow threatre practitioners to develop their ideas in locations around Wales and share the results of their work online and at "summer camps".
National Theatre Wales said up to 240 artists will be reached directly though the programme, with many more benefitting through online elements.
Mr McGrath said it was an "exciting way to support emerging artists and explore the future of theatre".
"Theatre is flourishing in Wales, with an extraordinary range of companies and artists spreading their creative wings.
"Wales Lab will give them a unique opportunity to try out ideas in a supportive yet challenging environment.
"We will bring the best and newest ideas to locations and audiences across the county, and share ideas and discoveries through our digital networks."
Dawn Austwick, chief executive of Esmée Fairburn Foundation, said their support was one of a series of grants to enable established theatres to nurture and support emerging treatre practitioners.
She said: "This fits into our aim to support the long-term health of the arts, using different funding models to reach organisations across the UK."
Setting up an English-language national theatre company for Wales was a committment in the Labour-Plaid Cymru coalition assembly government's One Wales document.
The company is currently receiving funding of £3m over three years from the assemby government and the Arts Council of Wales.
Heritage Minister Alun Ffred Jones congratulated the company on securing the grant and said he would watch with interest as the new hub develops.
"National Theatre Wales has begun to make a huge impact on the arts landscape in Wales, and the team have shown flair and generosity in their early collaborations with other companies.
"It is hugely important that new ideas should be tested and new talent given opportunities," Mr Jones said.