Black history in Wales celebrated at free event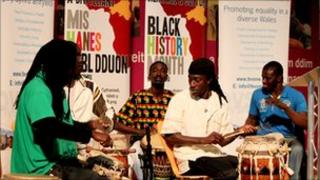 The contribution of black communities across Wales to the country's history will be celebrated at a free event.
Dance, music, film, storytelling performances and workshops are among the programme of events on offer at the Millennium Centre in Cardiff Bay on Saturday.
The event marks the close of Black History Month, which celebrates African history and heritage in the UK.
Co-ordinator Leanne Rahman said: "It's an event for everyone."
A traditional African ceremony will open proceedings at 1200 BST and there will be a range of entertainers, performers and cultural stalls through the day.
There is also a performance by Wales' own African dance company Ballet Nimba and poetry from dub poet Yasus Afari from Jamaica.
Sporting heroes
Those who want to learn more about Africa and its links to Wales can sign up for one of the African history talks on the day.
An exhibition of black Welsh international sporting heroes including Colin Jackson, Ryan Giggs, Billy Boston and Eddie Parris takes place next door at the Pierhead building in Cardiff Bay.
Leanne Rahman, co-ordinator of Black History Month 2010 in Wales, said: "This is the third year we've held Black History Month events Wales-wide.
"It's growing every year - we've had 49 events in total across Wales in October. We held events all over including Cardiff, Newport, Llanelli and Bangor.
"It's a great opportunity to share the contribution of African communities to Wales with a wider audience.
"Black History Month has been celebrated in the UK, England in particular, since the 1970s but for hundreds of years we have had a diverse population in Wales.
"It's only in recent years people have come to understand and celebrate the achievements of those of African heritage in Wales and we want to continue to raise awareness.
"I think it is a good time to spread the word and people are interested in learning more.
"Everyone is welcome to come to Saturday's event and take part. It will definitely be fun but also educational as well."
Welsh assembly presiding officer Lord Dafydd Elis-Thomas AM will be providing the keynote speech.