Asbo OAP Dorothy Evans 'too ill' to face trial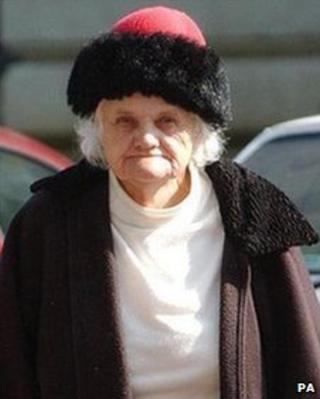 A judge at Cardiff Crown Court has ruled that an 84-year-old pensioner is too ill to stand trial over claims she has breached Asbo orders.
Dorothy Evans, of Abergavenny, Monmouthshire was accused of breaking the order eight times since it was imposed last year.
It is the latest appearance over claims she has abused her neighbours.
However, the charges have been put on hold indefinitely after medical evidence was heard.
But Judge Patrick Curran QC ordered that the anti-social behaviour order should remain in force, in a bid to offer her neighbours some protection.
Evans had denied breaching the order.
Friday's hearing was the latest in a long series of court appearances for the pensioner, who was first made the subject of an Asbo for her treatment of neighbours back in 2005.
In 2007, she was jailed for six months for breaches of the order, and then in 2008 was banned from being near her own home for five years, a ruling that was later overturned by the courts.
But after listening to evidence from two doctors in the latest appearance, Judge Curran agreed that Evans was not fit to stand trial.
He told her: "You are free to go."