Take That to play second night at Millennium Stadium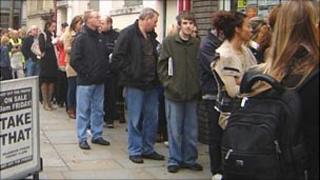 Hundreds of Take That fans have been queuing up in Cardiff, as tickets went on sale for the band's summer appearance at the Millennium Stadium.
Meanwhile, Millennium Stadium bosses confirmed a second date for the band, featuring Robbie Williams for the first time since 1995.
They will now play in Cardiff on 14-15 June 2011.
It came as online sites and phonelines struggled to cope as thousands tried to book UK stadium shows next summer.
"It's been a very busy morning at the Millennium Stadium and it looks to be a very busy afternoon with more tickets released for a second show in Cardiff," said WRU group chief executive Roger Lewis.
"The demand for tickets has been breathtaking."
The second date on Wednesday 15 June was added to the appearance scheduled for 14 June.
On Friday morning, some fans queueing outside Ticketline UK in Westgate Street said they had come down in person after websites were down.
Some fans travelled from west Wales to snap up tickets, costing between £55 and £85.
Tim Rich, managing director of Cardiff-based Ticketline UK, said he was "prioritising" people in the queue.
Tickets went on sale at 0900 BST on Friday.
Robert Whittington, 30, travelled from Pontypool after he was unable to buy tickets over the phone.
'Lines jammed'
"The tickets are for my wife and she is poorly so that's why I came down. It's worth more than my life if I let her down!
"I did try getting through on the phones earlier but I had no joy, the lines were jammed."
David Mitchell, 38, from Cardiff, was in the queue with his seven-year-old daughter Amber after websites crashed when he tried to buy tickets online.
He said: "I woke my daughter up and got her out of bed and told her we had to get down here to get tickets.
Amber, seven, added: "I didn't even get to have breakfast!"
Some bosses have even take pity on workers, who were keen to get tickets for the tour which will see Take That reunited with former member Robbie Williams for the first time since his departure in 1995.
One office worker Lisa, 34, who works close to the ticket office, said: "I was in work this morning and at one minute to nine I was on the phones and online trying to get tickets. I was on four different internet sites but they all crashed.
"I said to my boss 'can I please go and queue' and she said well you're useless here to me this morning anyway and allowed me to leave. I was so glad!
"I saw them on tour in Cardiff last year and I enjoyed it so much. I would have hated to miss out this time round."
'Real buzz'
Mr Rich said there were already 150 people queuing, when he arrived for work at the ticket agency at 0700 BST on Friday.
He said: "The queue has remained steady all morning.
"I know people are having problems with getting through on the phone and over the internet due to the demand so they are choosing to come to the shop instead.
"That's why we are prioritising people who have turned up. I can take staff off of the phone for example so they can handle more face to face sales.
"I even had someone in here who had travelled down from west Wales to get tickets.
"We are doing our best to make sure everyone is happy and most of my staff have worked here for ten years so they are experienced at this.
"We love it when it's busy, it gives us a real buzz."