'Better heartcare could save NHS millions' - charities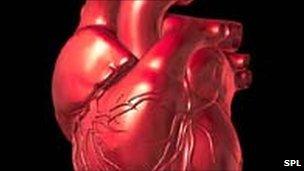 A new report claims better care for those with irregular heartbeats could save the NHS in Wales millions each year.
New statistics reveal patients with palpitations or arrhythmia like Atrial Fibrillation (AF) cost the NHS more than £100m in 2008 alone.
Now two leading heart disease charities say more needs to be done to improve detection rates.
They say AF affects 50,138 people in Wales.
If it is not detected and treated early enough it carries the risk of heart disease, stroke or even death.
It calls on health chiefs within Wales to address the personal, clinical and economic impact of AF and highlights the true economic burden the disorder carries with it.
AF is the most common heart rhythm disorder (arrhythmia) seen in clinical practice in Wales.
Last month the new MP for Montgomeryshire, Glyn Davies announced he would be receiving electric shock therapy in hospital for the complaint.
Former Prime Minister Tony Blair also received hospital treatment for an irregular heartbeat in 2003 and 2004.
According to new research from the Office of Health Economics, patients with primary or secondary AF occupied almost 308,000 bed days in 2008, at a cost to NHS Wales of more than £100 million.
On top of that, caring for outpatients with AF cost an additional £11.9million and other in-patient costs contributed a further £6.61million.
The statistics also show AF patients in Wales are five times more likely to experience a stroke, with a quarter of strokes caused directly by AF.
Trudie Lobban MBE, founder and chief executive of the Atrial Fibrillation Association, said: "Failure to diagnose and treat AF causes untold misery for thousands of people in Wales and costs NHS Wales millions of pounds every year.
"This is a bleak picture but it doesn't need to be this way. Some relatively straightforward measures could transform the situation socially, medically and financially."
Ana Palazón, director of The Stroke Association in Wales, added: "Too often AF passes as an unrecognised condition, yet its potential to undermine an individual's ability to lead an ordinary life is significant.
"We want to see patients receive reliable information, to have appropriate access to services and that the condition is recognised early so that appropriate treatment can be offered in the pursuit of maintaining good health alongside a good quality of life."
The report also calls for improvements in several key areas, with the recommendation AF become a priority for NHS Wales and raising awareness among healthcare staff and patients an aim.
The charities also want to encourage early identification and treatment of AF and see a specialist nurse appointed to champion the cause in every health board.
Another aim is to encourage research and new treatments.
Related Internet Links
The BBC is not responsible for the content of external sites.