Barry ex-fire station on Victorian Society at-risk list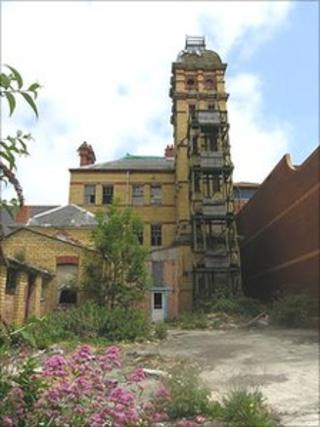 A former fire station which has been closed over 30 years is featured in a list of the 10 most endangered Victorian and Edwardian buildings.
The fire station at Court Road in Barry, Vale of Glamorgan, was included on the Victorian Society's list after a public appeal for Old fire station on at-risk list nominations.
The Grade II-listed building, opened in 1901, was said to be in an "advanced state of decay".
The society said part of the slate roof had gone and floors were also missing.
Lead has also been stripped from the distinctive firefighters' practice tower.
The building has been used for other purposes since the fire service moved out, but it has now been empty for nearly a decade.
Permission was granted earlier this year to convert the ground floor into offices and the upper floors into seven flats but work has not yet started.
Reports have appeared in the local press recently highlighting concerns over the safety of the building.
Dilapidated
The Victorian Society said: "The clock is ticking for this attractive landmark building as the interior is already riddled with dry rot and work needs to be done to the fabric of the fire station before it is too late."
Mavis Lloyd-Collins, 80, who lives nearby, remembers passing the fire station when she used to walk to school.
"It's dilapidated now isn't it? I think there was a boxing club there at one time for youngsters but that seemed to peter out," she said.
"It's just an old part of Barry. I'm 80 and I remember it being there forever.
"They [the firefighters] used to come out of the back way in the street behind us. I used to go that way to school."
She added that she would like to see the building used to provide activities for young people.
Pamela Grew, who also lives near the old fire station, said she believed the building was worth saving.
"I would probably miss it if it was gone but it's been empty for a long time," she said.
"I think they should do something about it - keep the building."
Other buildings on the Victorian Society list include a former Unitarian chapel in Manchester, the former Wedgwood Institute in Stoke-on-Trent and a factory that made ice for Grimsby's fishing industry.
The Victorian Defensible Barracks in Pembroke Dock featured in last year's list and the twin chapels in Cathays Cemetery, Cardiff, were included in 2008.