Green golf fan's Ryder Cup rough guide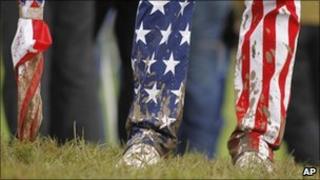 Since this is my first golf tournament, so who better to discuss the highs and lows of sporting endeavour with the global superstar that is Michael Jordan.
The towering figure was easy to spot as he powered his way to the ninth tee here at the Ryder Cup and thankfully for me, he was happy to chat.
Jordan - a close friend of Tiger Woods - was following the American pairing of Zach Johnson and Hunter Mahan and Europe's Molinari brothers, negotiating the increasingly muddy fairways and a crowd of camera crews - with ease.
The joy of this tournament - for journalists - is just how close you can get to the stars and with a bit of smiling and waving, get their attention!
"So Mr Jordan, are you sticking with these guys all day?"
"Not sure," came the answer, "but they're doing pretty good."
"Do you think I should?"
"Yeah, why not? You a big golf fan?"
"It's my first tournament."
"Ok, you like it?" came the response.
Of course I had to ask the big question that's been dominating if not the Ryder Cup, then the social networking sites of south Wales..
"I heard you went to a couple of clubs in Cardiff, how'd you get on?"
Cue a quizzical look from the global megastar...."Uhuh, yeah I went to a couple..." Quizzical look turns to a broad grin, "Yeah, they were kinda different."
Lots of laughing.
And with that, he was back to negotiating the muddy gloop that has replaced much of the once pristine walkways here at the course, swinging his golf brolly as he went.
For the first timer, a major golf tournament is a massive assault on the senses. It sounds silly to say it, but it really is a big event, big as in physically big, big as in spread out out over a huge area and big as in the worldwide audience for this event is counted not in the millions but the billions.
But back to that physically big thing because the actual process of getting from one hole to another can take some time, not just because of the scale of the course, but because of the proces of negotiating your way past thousands of people heading in different directions.
So how should I plan my day? This newbie called on lots of sporty friends for advice on how to tackle this first ever tournament. Should I spend the day at one location, or follow a group of players around the entire course? Would everyone be following Tiger?
What should I wear and how would I catch up with the golf mad friends who had paid more than £100 a ticket to watch their heroes battle for the honour of their respective continents when mobile phones had been banned from the course.
So with the advice ringing in my ears, the warm jacket and boot-wearing novice golf fan stationed herself in the stand at the first tee and was rewarded with seeing some of the biggest golfing names in the world teeing off including Lee Westwood, Luke Donald, the Molinari Brothers, Padraig Harrington and Hunter Mahan.
Like many other sporting fans, golf fans like a good sing, choruses of "There's only two Molinaris" rang out around the tee as introductions were made and group photographs taken.
Acknowledging the fact that the Ryder Cup was being held in Wales, the black curly wig wearing McIlroy fans led a spirited rendition of the Tom Jones classic Delilah taken up by the crowd of more than a thousand.
And just to give the overseas visitors a real taste of Welsh culture at its very best the home fans launched into the classic Max Boyce's chant of "Oggie, oggie, oggie".
It caused some confusion to the American fan next to me who responded by asking, "Honey, is that like the Haka thing those guys down in New Zealand do?"
I'm still not sure what the response should be.
The overwhelming feeling here is one of civility and genteel appreciation of the game.
As I stood at the eighth I wondered at the quiet which descended as each player stepped towards to ball, no real need for the army of stewards bearing little boards with the words 'silence'. The sharp showers and rivers of mud are greeted by stoicism and humour.
Much tea and beer was drunk, and stands selling everything from donuts, to fish and chips and cordon bleu meals dotted the course with laughter coming from queues 10 deep.
As the heavens opened again one fan told me a sense of humour was essential for both players and golf fans alike. A group of Americans from Minnesota acknowledged the role of Friday's downpours in suspending play by dressing as swimmer, complete with rubber caps and towels.
"Where we come from we get all four seasons so it's cool. We don't worry too much about the rain, we just love the golf and we want to have fun," said Dan Carlson as another raincloud dumped its unwanted cargo.
The fans from Minnesota clearly weren't the only people who'd thought long and hard about their outfits. Rhinestone stars and stripes caps, livid tartan trousers and sou'westers which looked as if they'd been borrowed from cod fisherman in the northmost of Scotland could all be found out on the course.
Tweed jacket, caps, plus fours and even a cocktail dress made their way onto the course.
Those who had wellies, thanked their lucky stars, those who didn't battled with the hungry mud which threatened to swallow shoes whole, and sometimes did, usually to a chorus of yelps and giggles.
The American "gwags" - golf wives and girlfriends - had decided on their own Ryder Cup uniform of camel coloured capes, black jeans, pristine wellingtons, professionally blow dried hair and of course diamonds as big as pear drops, twinkling in the sunlight. They responded graciously to the appreciative whistles and cheers at they followed their men to the tees.
One of the biggest cheers of the day was for the European team captain Colin Montgomerie, the urbane Scotsman generated huge applause as he walked out onto the course, whispering words of advice to his team. Those cheers turned into a noisy chorus of "Colin, Colin, give us a wave," which he did!
From a journalistic point of view this tournament has generated a tidal wave of rumours about famous faces who may or may not be here in south Wales.
Denzil Washington and Samuel L Jackson eating pasties in a local bakery, David Beckham in a carwash just outside Newport, Richard Gere walking the course, Tom Cruise hanging out at the fourth green. Tiger Woods visiting a wildlife sanctuary, Presidents Clinton and Bush times two here at the Celtic Manor and the big rumour; that President Barack Obama, an acknowledged golf nut, might just fly over on Air Force One for the final day of the competition.
Can I confirm any of them? No, but as rumours go, they're pretty good!
So what should I make of this, my first golf tournament, arguably one of the biggest sporting events on the planet? Well, then ban on mobile phones meant I couldn't meet up with some old university friends over from Ireland for the weekend simply because I could't tell them where I was and the miles of walking have left me footsore and weary.
But get past the mud, the rain and the cold and there's great scenery, great people, great rumours and great golfers all within touching distance. I'm sold!