Ministers have 'frank' discussions on S4C future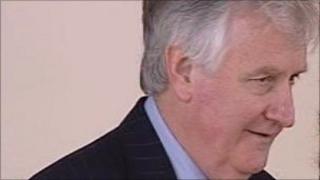 Heritage Minister Alun Ffred Jones has had an "open and frank" discussion with UK Culture Secretary Jeremy Hunt at the Ryder Cup, in Newport, a spokesman for the Welsh Assembly Goverment has said.
He said the minister stressed S4C's cultural and economic importance.
He added that the assembly government would welcome "appropriate consideration and consultation" on any change to S4C's current funding model.
It follows a spat between Mr Hunt's department and S4C over funding.
The UK government had insisted that a decision to cut £2m from S4C's budget was 'mutually agreed', but that was rejected by S4C's chairman.
Before the meeting Mr Jones said he had wanted to remind Mr Hunt and the Department for Culture, Media and Sport (DCMS) of what he described as "promises made by Tory MPs in the run up to the election - that S4C was safe in the hands of the Tories".
Discussions continue
An assembly government spokesperson said discussions would continue with the UK Government on the future of S4C.
S4C has had a turbulent summer.
The channel, which is reportedly facing cuts of 25% in its £100m budget over four years, saw its chief executive of five years, Iona Jones, leave unexpectedly in July.
After the appointment of interim chief executive Arwel Ellis Owen, chairman John Walter Jones announced major changes in the way the station would be run.
The S4C Authority has also asked former Welsh Assembly Government permanent secretary Sir Jon Shortridge to carry out a review of the way the channel is run over six weeks.