£1bn Pembroke power station permit plan not called in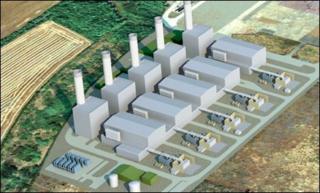 An application for an environmental permit for the proposed £1bn Pembroke power station will not be called in by the Welsh Assembly Government.
Environment Minister Jane Davidson wrote to Friends of the Earth, saying she was "content that the Environment Agency is applying the appropriate approach".
Friends of the Earth believe the plant will damage marine life.
They have complained to the European Commission about the power station.
'Considered issues'
A Welsh Assembly Government spokesman said Environment Minister Jane Davidson had "considered all the issues very carefully".
He added: "The minister has written to Friends of the Earth explaining that at this time she does not consider it appropriate for Pembrokeshire Power Station's application to be called in."
Gordon James, director of Friends of the Earth Cymru, said they were "not surprised" by the minister's decision.
He said they were more optimistic about a complaint submitted to the European Commission will be upheld.
Mr James said: "But that will take two or three years and the power station will be built by then."
Friends of the Earth have complained that the £1bn power station under construction in Pembrokeshire could be breaching European environmental law.
Pressure group
The pressure group believes it was wrong for the UK government to have given backing to the project before full environmental assessments were carried out.
Building work started in May 2009 and the 2000 Mw gas-fired power station is due to be completed in 2012, providing about 100 jobs and energy for more than three million homes.
Friends of the Earth believe the power station could damage marine life in the Pembrokeshire Marine Special Area of Conservation.
The Environment Agency is currently carrying out an assessment into the environmental impact of the plant.