Ryder Cup making up for lost time after downpour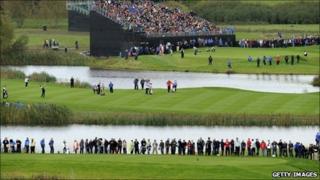 Organisers are hoping to make up for lost time on the second day of the 2010 Ryder Cup.
Golf's biggest tournament, being held in Newport, was delayed by torrential rain for several hours on Friday.
A changed schedule means all 24 European and USA players are out at the Celtic Manor Resort.
But timings are tight if bad weather returns on Sunday, with organisers hoping to avoid having to run into an extra day for the first time.
Spectators were still having to negotiate mud in some parts.
Play resumed at 1700 BST on the first day, leaving the visitors, and defending champions, ahead in two games, but only after both sides were forced back to the clubhouse for more than seven hours.
The venue's drainage network and teams of greenkeepers allowed the contest to continue shortly after the deluge had finished.
Big crowds turned up on the opening day and up to 45,000 spectators are expected on the site daily over the weekend.
Weather forecasters said persistent rain was expected to spread to many parts of south east Wales on Saturday evening, turning heavy at times.
More rain is forecast for Sunday, expected to ease to the east by late afternoon leaving a dry end to the day.
Fans with tickets to Sunday's play are being asked to present them on Monday if play goes in to a fourth day.
The tournament is not giving refunds on Friday's tickets, but fans have been urged to hold onto them for the time being.
Organisers said in a statement: "Under the terms and conditions of the 2010 Ryder Cup ticket hodlers are not entitled to a refund neverthteless we appreciate the patience and consideration shown by spectators on Friday in the face of appalling weather conditions."
Friday's specators were asked to keep hold of their ticket and an announcement will be made on the tournament website after the event finishes "regarding ticket opportunities for European tour competitions in 2011".
The event will have to end at sunset on Monday, whatever the weather.
The captains have an agreement that the matches cannot continue any longer than when the sun goes down on Monday, which is at 1843 BST.
If the 28 matches are not completed by then, the results of all the completed matches will stand. Any match not finished and still on the course would be declared a halve no matter what the score.
If the contest, the 38th biennial event, is forced to carry over to Monday, it will be the first time in its history that the competition has been held over four days.
European captain Colin Montgomerie said: "Monday finishes are no good in any sport and it's like going away from the FA Cup final and they didn't have a replay if it was a draw. Monday is still an option as the forecast remains poor on Sunday.
"But of course, if it does rain here on Sunday, if we lose another hour of play, then we are through until Monday."
One well-known golf fan, radio presenter Chris Evans, said: "What the tournament committee have done by making a big decision to get everyone out and playing is to be admired.
"They could have run away from that but they've changed the format to say 'let's get it going' and to keep the momentum going."
The heavy rain has already claimed a victim in the US side - the team's waterproof gear.
A number of players were forced to buy new sets from the club shop after their own sprang leak, meaning they may no longer be in matching outfits when play resumes.
The tournament alternates between Europe and America and has an estimated television audience of 600m homes in 185 countries.