Leighton Andrews attacks union's 24-person survey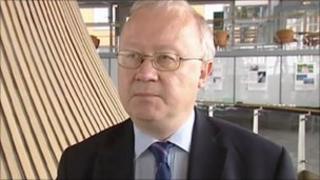 Education minister Leighton Andrews has criticised a teaching union survey as "pathetic" and "baloney" for using a sample of 24 people.
Headteachers union NAHT Cymru said half of headteachers surveyed believed an assembly government reform on schools sharing good practice "will fail".
Mr Andrews called the survey "ridiculous" because of its size.
The union defended its methodology and said Mr Andrews' comments were "not the language expected from a minister".
The education minister hit out after the union published its "snapshot" survey on the assembly government's School Effectiveness Framework (SEF) reform.
It selected a dozen headteachers and a dozen teachers to be interviewed for their experience and opinions of the reform.
The survey in September claimed to reveal "widespread confusion over how SEF will be delivered" with more than 90% saying they "saw mounting paperwork".
However, all but one of those interviewed said they believed SEF was a "good policy on paper," the NAHT said.
Mr Andrews responded with strongly worded criticism on the assembly government's website.
He said: "The survey from the NAHT is pathetic. This is baloney. The fact that they have asked only 12 heads and 12 practitioners and would use this as a representative picture of Wales as a whole is ridiculous."
He said the "great buy-in to the SEF" included more than 860 people attending four events in Wales to learn about the reform.
Iwan Guy, acting director of NAHT Cymru, defended the methodology of the teaching union's survey and said he was not interested in "a slanging match" with Mr Andrews.
He said: "It was a snapshot survey following many concerns that headteachers have raised.
"We selected a very carefully chosen group of headteachers and teachers - some had worked on the pilot study, some had worked with SEF, others were very sceptical but had come to be supportive and vice versa.
"We would defend the methodology. It was not a random selection. It was conducted by an in-depth interview."
Mr Guy added: "It is not the sort of language we would expect from a minister."
He said that many of the people who had attended the four SEF events described by Mr Andrews were not headteachers and said an "embarrassing" number of delegates at the conferences had left at lunchtime and not returned.
NAHT Cymru has a membership of 1,300 headteachers and deputy headteachers, the majority in primary schools.