Retired Caerphilly teacher celebrates 105th birthday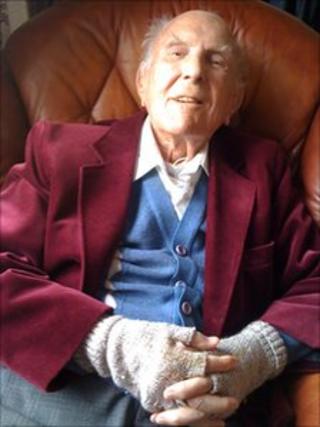 A former headmaster is celebrating his 105th birthday - marking 50 years to the day since he retired.
Aneurin Thomas, of Caerphilly, was headmaster at a school in the town and said he expected lots of his former pupils to drop by with birthday wishes.
In the 1930s and 1940s he was a well known South Wales band leader and pianist of the Collegians.
But he said he had no secrets for long life: "I can't cease to wonder how I have got here!"
He added: "I don't know what I'm supposed to feel like. I'm 105 and that's it. If all 105-year-olds feel like I do, well they can't complain."
Mr Thomas was born in 1905 at the top end of the Rhymney Valley.
He was a talented pianist and played with stars such as Joe Loss and Victor Sylvester.
But despite his natural talent, he turned down a music scholarship to Cardiff University to pursue a career as a school teacher, to the fury of his father.
"I admired the teacher I had in Fochriw, a Tom Jones from Pontlottyn. He was marvellous and I made up my mind I was going to be another Tom Jones.
"I quarrelled with my father about it because he wanted me to go on with my music. I had a scholarship waiting for me at Cardiff University but I wouldn't go.
"I turned it down and went to teacher training college and I never regretted it. I loved teaching."
Mr Thomas was a fixture on the big band scene in the 1930s and 1940s.
"Yes, I was very well known. I did the whole circuit of dance bands for 20 years in Wales," he said.
He said he expected lots of his former pupils to drop in to mark his birthday.
"They all loved me. If you were here all day you'd probably meet half a dozen of my old pupils. They all come here," he said.