AMs call for action on Welsh as second school language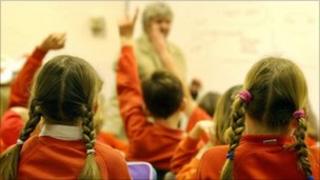 More needs to be done to make sure that pupils can learn and practise Welsh in schools, an assembly inquiry says.
The enterprise and learning committee issued its report into the teaching and learning of Welsh as a second language.
Successive Estyn reports have highlighted the lack of opportunities for learners to use Welsh in other classes, outside school and informally.
The assembly government said it wanted learners of all ages to achieve a broader range of Welsh language skills.
The report by the cross party group of assembly members noted changing attitudes in favour of Welsh-language learning.
It said committee members had visited a number of schools during their inquiry and found examples of good practice.
They were impressed by efforts to improve Welsh-language learning at Treorchy Comprehensive School in the Rhondda and the Geiriau Bach project in Trinity College Carmarthen, it said.
Gareth Jones, committee chair, said many of the inquiry's findings painted a positive picture of Welsh-language learning.
"The committee is pleased to see how innovative programmes are promoting Welsh learning in certain parts of the country and we feel these programmes deserve expansion," he said.
Under its proposals schools would be given support and advice to ensure that all education policies were compatible with bilingual provision, said Mr Jones, who urged the assembly government to examine the possibility.
But he added: "While our inquiry detected examples of good practice in the sector, we are nevertheless concerned that our findings closely match a similar report released by the National Assembly eight years ago.
"We hope the Welsh government's new Welsh-Medium education strategy will address these outstanding issues to ensure that Wales is on course to have a truly bilingual society."
'Good ideas'
Professor Colin Baker, an academic expert on bilingualism and education at Bangor University, welcomed the report, saying it went into criticism of the problems but also looked at the way forward.
"Historically it's quite a major report," he said. "This is almost the first report that looks at second language Welsh and it contains lots of good ideas.
"If you read closely between the lines there are problems. There is discontinuity between primary and secondary schools.
"A lot of children are reasonably fluent in primary school but take only the English medium in secondary. This has been a known issue for a decade."
Prof Baker said Wales had not promoted bilingualism.
"Not just the Welsh Assembly Government but universities, teached training colleges and schools themselves," he said.
"But it's all about October 20 and what happens with the [UK government's} spending review.
"Is there going to be money in the system to pay for all this?"
The Welsh Assembly Government said it wanted to ensure that Wales' education system made it possible for more learners of all ages to achieve a broader range of Welsh language skills.
This would enable them to use the language in their personal lives, socially and in the workplace.
A spokeswoman said: "The Welsh-medium education strategy already outlines some actions to take the teaching of Welsh forward in all our schools.
"We have received a copy of the committee's report and will now take time to consider its findings before proposing more detailed initiatives."