First Minister opens Ryder Cup tournament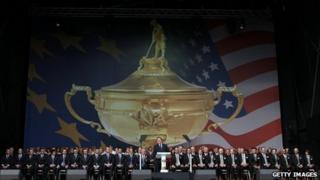 Thousands of people have attended the opening ceremony of the Ryder Cup in Newport.
First Minister Carwyn Jones led proceedings at the Celtic Manor calling it was a "once in a lifetime opportunity" to put Wales on the map.
Singers Rhydian Roberts and Katherine Jenkins performed and there was also a parade by members of the Welsh Guards.
European team captain Colin Montgomerie and his US counterpart Corey Pavin named their line ups for the first day.
But Pavin suffered the first mistake of the tournament when the American skipper announced his team to the packed crowd in front of the championship course's 18th hole.
He forgot to announce four-time Ryder Cup player and 2009 Open champion Stewart Cink.
His error was pointed out to him by rookie Rickie Fowler, which brought a smile to the face of world No. 1 Tiger Woods.
"I apologise to Mr Stewart Cink," said Pavin. "A special welcome to Stewart Cink."
Colin Montgomerie joked afterwards: "Well, I suppose that was a mistake. But that was just unfortunate. And yes, we are one-up!"
Speaking at the ceremony, First Minister Carwyn Jones said the next three days marked the culmination of almost a decade's hard work since Wales won the bid in 2001.
He said the event has already seen a huge boost to tourism and would leave a legacy for the economy and the nation of Wales.
He added: "As a result of all of the Ryder Cup activity, Wales is now recognised as an established golfing destination.
"The value of golf tourism is set at £35m - that's nearly twice as much as 10 years ago."
He also paid tribute to the work of Sir Terry Matthews, owner of the Celtic Manor Resort, before wishing both teams the best of luck.
'First class'
Europe captain Montgomerie, called Wales' hosting of the three-day tournament so far "first class".
He said: "This isn't five or six-star, it is seven star and for those at the Welcome to Wales concert last night, a fabulous occasion was had by all.
"All credit to the Ryder Cup Wales and Ryder Cup Europe for putting on this event the way it has been so far.
"We just look forward now with just hours to go. We look forward to the matches starting."
Around 30,000 fans a day have been attending practice sessions, which have included informal opportunities to collect autographs.
Lesley Keefover, from Tennessee, was donning her Team USA hat.
"We can't wait for the golf to start but we're going to win and we're going to take the cup back home with us," she said.
"We love golf, we love our team but everybody in Wales is treating us so well, we're having a really nice time and it is a special experience."