Teenager escapes attempted abduction in Wrexham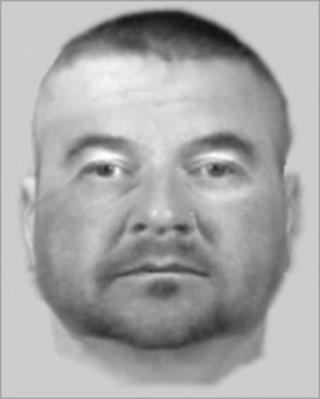 Police issue an e-fit of man they are hunting after an attempted abduction of a teenager at a Wrexham bus stop.
The incident began when the driver stopped his dark blue Volvo 240-style estate car and asked the woman, in her late teens, for directions.
He then got out of the car and adjusted the front wipers before approaching the young woman, offering her a lift.
After she declined several times, the man tried to force her into his car on Church Street, Rhostyllen.
She managed to break free and escaped unhurt.
"This is an extremely unusual and rare incident," said Det Sgt Eleri Deverelll from Wrexham CID.
The man is aged in his late 30s to early 40s, 5ft 8in tall, stocky build, with short brown hair. He was wearing a black jacket and dark trousers.
The car's bonnet is described as slightly darker than the rest of the car.
The incident happened on Thursday 23 September, at about 0815.
Anyone with information is asked to contact Det Sgt Eleri Deverell at Wrexham police station on 01978 348547 or 101, if in Wales, or 08456071001 (Welsh line) 08456071002 (English line). Alternatively, call Crimestoppers Cymru/Wales anonymously on 0800 555 111 or text 66767.