Wrexham's £40m student village opens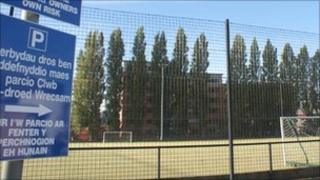 Students move into a £40m accommodation "village" today - with views over Wrexham's Racecourse stadium.
The 156-room development is the first phase of a new student accommodation complex called Wrexham Village.
It will be officially opened today by Lesley Griffiths, deputy minister for science, innovation and skills.
The scheme was unveiled two years ago as part of plans to redevelop the stadium and boost Wrexham FC's finances.
Professor Michael Scott, vice-chancellor of Glyndŵr University, said: "We're thrilled that the first phase has been completed - it looks fantastic."
The development is the result of a partnership between owners, Wrexham Village Ltd, Wrexham FC and Glyndŵr University which has a campus adjacent.
Ms Griffiths described Wrexham Village as an exciting development, which was a "milestone" for the university.
"It is a significant investment and will be a real boost for the university which attracts around 6,000 students a year and makes an important contribution to the regional economy."
The Co-operative Bank provided a £2.85m loan for phase one of Wrexham Village development.
Ian Roberts, director of Wrexham Village Ltd, said: "I hope that Wrexham Village will become an iconic building which everyone connected with the town can feel proud of."