Ryder Cup creates hundreds of temporary jobs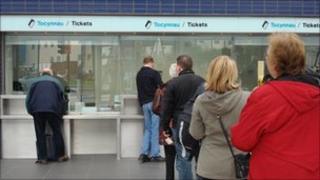 The Ryder Cup is creating hundreds of temporary jobs in Newport.
The opportunities have arisen in customer service and the hospitality industry as well with security, traffic, car parking and manual work.
Bars, restaurants and hotels are reporting increases in bookings and some have taken on additional staff to cope.
To meet demand, others report opening for longer and even days they're usually closed.
Andrew Shellard, operations manager at recruitment firm Manpower, said: "We're currently seeing specific demand for customer service roles and hospitality personnel to work at the Ryder Cup tournament - providing a welcome boost to job creation."
In the town of Caerleon, near Newport, staff at the Priory Hotel have been coping with an increase in bookings, particularly in the restaurant, over the last two weeks as more people descend on the area to visit the Celtic Manor Resort.
Priory owner Miguel attributes the rise in trade due to the Ryder Cup, but says it presents its own problems.
'Work opportunities'
"We want to look after our regular customers who come throughout the year," he said. "But our restaurant is becoming booked earlier in the week.
"This all started about two weeks ago.
"Friday and Saturday is a big sell-out and we're opening on Sunday evening - we don't usually but trade is asking for that."
Speaking on behalf of job centres, a Department for Work and Pensions spokesperson confirmed increases in temporary jobs.
"The Ryder Cup has brought hundreds of temporary work opportunities to people in and around Newport," he said.
"These include labourers, who have helped erect seating at the venue, and security workers, car park attendants and traffic marshals employed for the event itself."