Church asked Henson for permission to date her new man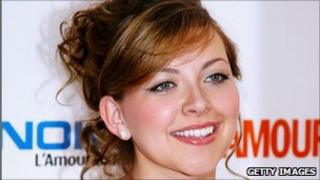 Charlotte Church says she felt duty-bound to ask for Gavin Henson's blessing before dating her new boyfriend.
The singer, who split from the rugby player in May, has confirmed she and musician Jonathan Powell are an item.
But she claims there was no overlap between him and Henson.
She says her change of heart came when Henson was filming in the Arctic.
The star's comments on her current relationship status are published in an interview with this week's Heat magazine.
She reveals she had to tell Henson, who is father to her two children Ruby, three, and Dexter, 20 months, before embarking on the new relationship.
She said: "I'd been writing with Johnny for a while, but it was a good couple of months after me and Gav split.
"I kind of asked Gav's permission in a way. I said to him, 'I really want you to know that nothing ever went on between me and Johnny while we were still together'.
"Johnny had a girlfriend when we were first working together, and I had Gav. And I'm not that type of person. I hadn't really noticed any feelings at that point.
"When I'm a taken woman, I'm a taken woman - that's the way I see things."
The singer, who has previously admitted the break-up with Henson just weeks after getting engaged was "hard", also claimed she still has "a lot of love and respect for Gav."
But she said the turning point for both of them came when he went to the Arctic to film the reality show 71 Degrees North for ITV1.
The process and his absence from the pair's home in the Vale of Glamorgan, made Henson "sit back and reflect", she said.
And it appears it came at the same time as her own decision on their future: "I really was going to marry Gav and spend the rest of my life with him.
"But then he came back from Norway and he'd changed and I'd had time to think."
Church, 24, admits she is enjoying her new relationship with Powell, but is taking things slowly.
She said: "Johnny's amazing and brilliant, but it's early days and the split with Gav is still raw."
Henson is currently starring in the BBC's Strictly Come Dancing.