Prince Charles in visit to 2010 Ryder Cup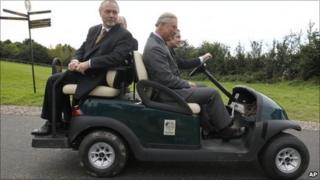 Prince Charles has given the royal seal of approval to the Ryder Cup teeing off in Wales, with a visit to Celtic Manor Resort in Newport.
Later the prince attended a gala dinner at Cardiff Castle with the tournament's European and US teams.
He was also the guest at a Milliennium Stadium concert with Hollywood star Catherine Zeta Jones and singer Dame Shirley Bassey and Katherine Jenkins.
Around 13,000 attended the concert.
The prince took to a golf buggy for a tour of Celtic Manor, where the match between European and United States golfers, begins on Friday.
He toured part of the course on foot with John Jermine, chairman of Ryder Cup Wales, and chatted to Cup captains Colin Montgomerie and Corey Pavin, who broke off momentarily from their teams' second official practice day.
Prince Charles spent a few minutes practising his putting, and also paused to taste a pint of beer belonging to one of the many golf fans lining the course.
The three-day event is golf's biggest tournament and the third largest event on the world's sporting calendar.
In the evening he attended an official dinner at Cardiff Castle where he met all 24 golfers competing in the international tournament.
Prince Charles, who is a fan of Dame Shirley, was also a guest at the Welcome to Wales concert at the Millennium Stadium where the Cardiff-born singer headlined.
The prince praised tournament organisers for their efforts to reduce the Ryder Cup's carbon footprint.
Organisers arranged the 90-minute concert to mark Wales hosting the tournament for the first time.
Swansea-born actress Catherine Zeta Jones returned to Wales to give the official opening at the event which will see the both the golf teams introduced to the audience of around 13,000, almost a sell-out.
The evening was hosted by Rhondda-born TV presenter, Steve Jones.
Major medley
Performers included Katherine Jenkins, Cardiff-based choir Only Men Aloud, Lostprophets and teenage singer Shaheen Jafargholi from Swansea.
Earlier, a spokeswoman for the organisers said the 10,000 public tickets for the concerts had all but sold out.
She said: "It is pretty much full. We've only got a few single tickets left."
Stifyn Parri, of events agency Mr Producer, said: "It will be a major medley of Welsh talent saluting the Ryder Cup - we're ticking every box."
Before the concert, the stadium will also host a VIP dinner for 1,500 people.