Arts Council of Wales urged to use unspent £1m pot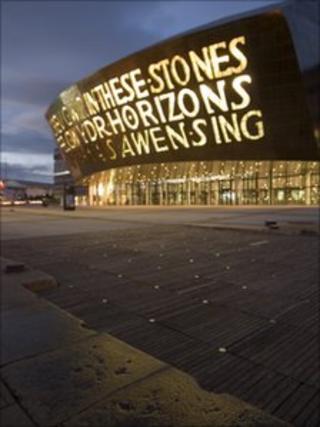 The Arts Council of Wales has been urged by some arts groups to use £1m of unspent funding to help companies struggling with budgets.
The council is considering using the money as a safety net against future cuts from the Welsh Assembly Government.
The money stems from leftover funds from an arts scheme that ended earlier this year.
The council has said it will decide in December how to use the funds.
It follows a decision earlier this year by the Arts Council of Wales to end funding for 32 groups in Wales.
The council said a "small number" of those groups have been forced to close as a result of the funding axe.
"We're working with them to offer what assistance we can in helping them to bring their affairs to an orderly close," the council's chief executive, Nick Capaldi, said in a letter to arts bodies in Wales.
Wiard Sterk, director of Safle, Public Arts Wales, which is closing down within the next two weeks, said: "It's a bit of a surprise to learn that the council has £1m left."
He said: "I would hate to think of that money being kept back to deal with cuts - that is a very regressive approach for the arts."
The remaining grant funded arts bodies in Wales have had to deal with standstill funding over the last few years, and are bracing themselves for cuts once the Welsh Assembly Government learns how much of its budget will be cut by the UK Government.
The Art Council of Wales has said it will maintain funding levels for 2010/11 but is deliberating holding on to the unallocated £1m as a buffer against expected cuts for 2011/12.
The council initially wrote to arts bodies saying they would use the £1m to spend on organisations who were successful applicants for a new funding scheme, called Investment Review.
But the council is now proposing three options - allocating the money, using the funds as a safety net or a mixture of the first two possibilities.
Chris Ryde, chair of the Welsh Association of the Performing Arts, has called on the arts council to use the money now.
He said: "I am disappointed that they have waited until December, although I can see the logic."
"My only worry then is that the mechanism to distribute the money is unclear and may have to be rushed through."
Mr Ryde, who has described the arts council's decision to end the funding of 32 companies as a cull, said it was important to decide on using the money sooner rather than later as many arts groups were finding it difficult to plan for next year.
The arts council's chief executive Nick Capaldi admitted some organisations were beginning to feel "the bite" from several years of standstill funding.
He said: "It's very clear that we're facing difficult times. We should know the outcome of the government's spending review and its implications for future years' arts funding by December.
"We firmly believe that we shouldn't rush into anything until the complete funding picture is clear."
One arts institution feeling the effect of that standstill funding is Cardiff's Ffotogallery.
The gallery's director, David Drake, said: "I hope that ACW will proceed as originally planned and allocate the funds to high performing organisations like ourselves in order to alleviate the financial stress we're under this year.
"We fully understand that this is an uncertain time for all in terms of the future availability of public funding, but every penny counts."
Mr Drake called on the arts council to decide as soon as possible what additional funding was available to support Ffotogallery's activities in in 2010/11, "so we can plan accordingly".
He added: "However, we understand that ACW wants to establish as complete a funding picture as possible before making its decision, which accounts for the deferral until December."